Government announces action to improve implementation of the Habitats and Wild Birds Directives
The Review focused on the processes within the Directives that most affect businesses.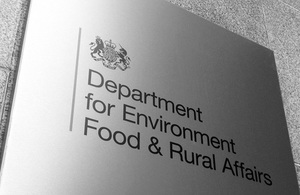 A new cross-Government unit is to be set up to help developers deliver large infrastructure projects that promote sustainable development by supporting growth and protecting our most valued habitats and species, Environment Secretary Caroline Spelman announced today.
The new Major Infrastructure and Environment Unit is one of the key recommendations to emerge from a review into the way the Habitats and Wild Birds Directives are being applied in England.
There will also be new guidance published which will explain in much clearer terms what needs to be done to comply with the Directives. The new streamlined guidance will be easier for both developers and regulators to follow.
The Review focused on the processes within the Directives that most affect businesses. It made recommendations which will reduce the burden on business while maintaining, and where possible, enhancing the environmental benefits.
Commenting on the publication of the Review report, Environment Secretary Caroline Spelman said:
"I strongly support the aims of the Habitats and Wild Birds Directives, and I have said all along that I want them to continue to be effective in protecting important wildlife sites. Central to that is ensuring that we maintain their integrity, and the best way of doing that is to make it as simple as possible for people to comply with them. What the Review has shown us is that the Directives have been working well to provide the vital protection nature needs, but that there are cases where problems arise and delays occur, which is not good for business, the environment or local communities.
"That's the sort of thing which can undermine the reputation of the Directives, which was why it was important to have the Review in the first place. The action we are taking will make it clearer for developers to understand how to comply with the Directive, and will ensure that our wildlife still receives the high level of protection it deserves. This in turn allows genuine green growth, boosting our economy whilst looking after the environment."
The Review also sets out the actions that bodies such as Natural England, the Environment Agency and the Marine Management Organisation will take to continue to improve the service they offer to customers, including developers.
The Review, which was announced in the Autumn Statement by the Chancellor and led by Defra, has involved detailed work with stakeholders and other Government departments.
Notes:
The full report can be found at: http://www.defra.gov.uk/habitats-review/
Published 22 March 2012