Government announces £6 million for children in care and families who need extra support
Children's Minister Tim Loughton announces an extra £6 million a year to provide additional support for foster carers and vulnerable families.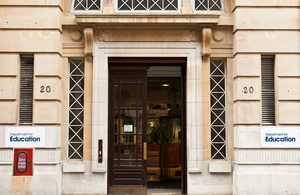 Thirty seven local authorities will share this extra funding in order to expand their own intensive intervention programmes and reach even more vulnerable children and their families.
The programmes supported by the government all address the need for stability in a child's life. There is increasing evidence that this work reduces the need for a child to enter care or custody, or can reduce the length of time spent in care.
Meeting foster carers in Oxford, Children's Minister Tim Loughton said:
Poor parental care can have a lasting impact on children. It can cause difficulties for children's development across many areas of their lives. Yet we know from the success of programmes such as Multisystemic Therapy that with the right support, families with entrenched difficulties can be helped to turn their lives around.
For those children who can not remain with their families, we want to ensure that those responsible for caring for them have the right support to help them meet their often challenging needs. We know that programmes such as Multidimensional Treatment Foster Care have a track record in helping some of our most vulnerable children have a more stable and successful childhood.
I am delighted to announce today additional funding for 37 local authorities and their partners to develop intensive programmes of support in their areas. Around half of these will be focused on families with children on the edge of care or offending, and half offering intensive support for foster carers.
The programmes supported by the government are:
Multidimensional Treatment Foster Care (MTFC)
There are three programmes for different age groups operating across England. Each foster carer is trained in behaviour management for the age group with which they will work and they are supported by a clinically led team. The foster carer works with one child at a time for between six and twelve months. Their aim is to reduce behavioural problems, increase social, emotional and relationship skills and improve foster placement stability whether the long term plan is to return home, long term foster care or adoption.
Keeping Foster and Kinship Carers Trained and Supported (KEEP)
The standard programme has been designed for carers of children aged 5 to 12 years. It is a preventative programme to increase the parenting skills and confidence of foster carers and kinship carers which helps to reduce the possibility of placement breakdowns.
Multisystemic Therapy (MST)
Therapists use evidence based approaches, such as cognitive behavioural therapy and structural family therapy to work with young people aged 11-17 and their families. They aim to increase young people's engagement with education and training, reduce young people's offending or anti-social behaviour, increase family cohesion and tackle underlying health or mental health problems in the young person or parent, including substance misuse.
Functional Family Therapy (FFT)
Functional Family Therapy targets young people aged 10 to 18 with behavioural problems, alcohol and/or substance abuse problems. Over a 3-4 month period the programme aims to reduce defensive communication patterns, increase supportive interactions and promote supervision and effective discipline.
In Oxfordshire their MTFC and KEEP programmes have already delivered some great results. They are linking up their wider services for all vulnerable children and families to those for children in care. Not only because it is much more cost effective to intervene earlier but it is a model which ensures treatment is mainstreamed and financially sustainable.
Alison Wharmby, Programme Manager of Multidimensional Treatment Foster Care (MTFC) in Oxford, said:
Oxfordshire is proud of the role that it has played in piloting new programmes and of embedding these programmes into our Children's Services.
MTFC is one of a suite of evidence based interventions and support services that is offered to families and carers. It has not only been successful in the outcomes for looked after children on the programme but also, its behaviour management principles have been disseminated through training to carers, families and staff.
Ruth and David Bartrip have been foster parents for over 25 years and have recently been looking after a seven-year-old boy with challenging behaviour and are taking on their second placement.
Ruth said:
We found the programme (MTFC) a tremendous help and we know that if we hadn't had that support and input, we would not have coped. The training taught us how to relate to a child in a more positive way. The 24 hour support has been great as we know that there is always someone on the end of the phone to help talk us through a situation. The weekly support groups are great because you encourage, help and support one another. As carers it has taught us a lot and has certainly made us feel a lot calmer, more confident and more in control of situations.
'J' aged 11, was referred to the MTFC programme due to his challenging behaviour. He was prone to having episodes of verbal aggressiveness and struggled to make friends at school. Having been on the programme for over a year he has made excellent progress and shows minimal signs of anger and defiance.
He said:
I think the programme is great! It helped me change the things about myself I wanted to change.
Notes to editors
Areas sharing the £6 million are:
* North East: Newcastle
* North West: Blackburn with Darwen, Manchester, Salford, Trafford, Bury, Cheshire and Tameside
* Yorkshire & Humber: Leeds
* East Midlands: Derby, Derbyshire, Leicester, Lincolnshire and Northamptonshire
* West Midlands: Dudley, Staffordshire and Coventry
* East: Cambridgeshire and Suffolk/Norfolk (working in partnership)
* South East: Kent, Oxfordshire, Reading, West Sussex, Brighton and Hove, Essex, Medway and Portsmouth
* South West: Bristol and Somerset
* London: Greenwich, Merton & Kingston, Bexley, Ealing, Hammersmith & Fulham, Haringey, Hillingdon and Lewisham
There were 64,000 children in care in March 2010, with around 85,000 children in care during the course of the previous twelve months. Approximately two thirds are in foster placements. Around 10% of children in care experience 3 or more placement moves in one year. This can have a detrimental impact on their emotional wellbeing and is associated with poor educational attainment. Statistics for each local authority are available from the publications section.
The application process:
All local authorities who were already delivering intensive evidence based programmes were invited to apply for funding of up to £200,000 per annum in order to test new ways of delivering the programmes. Local authorities who had not previously developed these intensive programmes were invited to apply for funding to develop one of the four programmes - MTFC, KEEP, MST or FFT. The Department for Education undertook a rigorous assessment process which included carrying out interviews.
DfE enquiries
Central newsdesk - for journalists 020 7783 8300
General enquiries - for members of the public 0370 000 2288
Website: www.education.gov.uk/help/contactus
Published 30 August 2011