News story
Government and industry join forces to help get more women and girls in STEM
Jo Swinson calls on experts to drive forward action to increase female representation in science, technology, engineering and maths careers.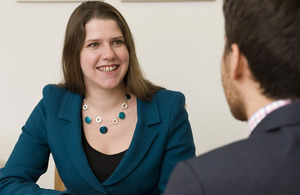 Women and Equalities minister Jo Swinson this week hosted a meeting with experts from the academic and business sector to kick start a new focus on getting more women and girls to choose Science, Technology, Engineering and Maths (STEM) subjects and careers.
Women now make up 46 per cent of the UK's work force, but only 15.5 per cent of the STEM workforce are women (this excludes medicine, which does have a high representation of women). Just 8 per cent of engineering professionals are women. Additionally, despite the fact that girls out-perform boys in GCSEs and A-Levels, and there are more women graduating from university than men, just 12% of engineering and technology undergraduates are women.
Swinson met with leading professionals from the Royal Academy of Engineering, the Royal Society, STEMNET, WISE, Women's Engineering Society and LadyGeek to discuss what more can be done to speed up action and encourage more girls and women to take up STEM.
Jo Swinson said:
Although we know girls out-perform boys at school, this does not always translate into future success in their working lives. While there are more women in work than ever before STEM is still a male dominated world. Women are seriously under-represented in this sector , particularly in engineering . Not only are women missing out on what can be a highly rewarding career, but UK companies are missing out on a huge pool of talent.
It's vitally important that we invest in the futures of young women and girls. This will not only benefit them directly but will also allow us to maximise the UK's economic potential and competitiveness in a global market.
The meeting was a great opportunity to discuss the fantastic work already underway like the STEM Diversity Programme led by the Royal Society and the Royal Academy of Engineering. We want to see what more we can all do to develop and broaden women and girls' aspirations and choices before the start of their working lives and beyond.
A key recommendation of the Women's Business Council report suggested the government look at what more could be done to drive forward action in this area including:
encouraging more business leaders to become STEM Ambassadors
promoting best practice from schools
engaging with and getting support from business and schools
The government has already announced a series of actions in response to the report to help increase the ambition and aspirations of young people. A more detailed action plan is due to be published in the autumn.
Further information
Published 9 August 2013