Government action on ash tree disease Chalara
Hundreds of staff members from government agencies will be out checking sites across the UK for signs of the tree disease Chalara ash dieback…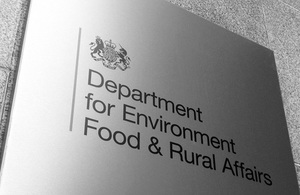 Hundreds of staff members from government agencies will be out checking sites across the UK for signs of the tree disease Chalara ash dieback this weekend. It's one of several actions to emerge from a meeting of the Government's emergency committee COBR, which Environment Secretary Owen Paterson chaired this morning.
Plant health experts are undertaking an urgent survey of a thousand sites which have had saplings from nurseries where Chalara has found to be present. They are also prioritising the examination of around 2500 blocks of land, each 10 kilometres square, where mature ash trees are known to be present, in order to seek out traces of the disease in our established trees.
These experts will be backed up by volunteers from organisations such as the Woodland Trust, National Parks and the National Trust as well as the CLA who have urged their members to use Forestry Commission guidance to check their ash trees for traces of the disease over this weekend.
The ash tree is a native British species of tree, providing around five percent of woodland cover. Chalara is a serious disease that has affected a high proportion of ash trees in northern Europe and which was confirmed as present in the UK in March.
Environment Secretary Owen Paterson said:
"The fact that we had a COBR meeting shows how seriously the Government is taking the threat of this disease. We're co-ordinating work across all of the main Government departments and their agencies, as well as the devolved administrations, to make sure we're all doing everything we can to control the disease.
"The urgent work that will happen this weekend will give us a much better picture of where the disease is; we can then target our efforts in those areas. I'll be sharing the results of these initial surveys with colleagues across the industry at a Plant Health Summit next week where we'll be working together on the next steps.
"The action we are taking now builds on the crucial work earlier in the year when the disease was first identified here back in March in a nursery. We've been tracking down affected trees and destroying them, and last week I banned imports of ash trees and imposed movement controls ahead of the planting season. We've taken the right action at the right time in order to tackle this disease."
A task force of staff is also being set up, pulling staff from Defra, Fera, Forestry Commission, Natural England and the Environment Agency to be deployed in surveying for Chalara.
The COBR meeting was also updated on the state of the disease. Cases of Chalara are still being discovered in East Anglia in mature trees. So far there are 41 confirmed sites where the disease is present. These are 13 nurseries, 16 recent planting sites and 12 woodland sites.
Action taken over the summer to identify areas where the disease might have been present has resulted in 100,000 saplings being destroyed to prevent the spread of the disease.
Ian Boyd, Chief Scientific Advisor to Defra, gave an account of the latest findings on the disease. He said:
"We're dealing with a new disease for the UK and the science community is pulling together to provide as much information as it's emerging to allow us to take action as quickly as possible.
"The evidence of Chalara present in mature trees in East Anglia points to the disease being present for a number of years and unfortunately we are likely to discover it in other mature woodland, particularly in coastal areas. That's why this survey is so important as the more evidence we can compile, the better we are equipped to tackle it in the best way possible."
Government scientists set out the most up-to-date understanding of the disease. Their assessment agreed with the earlier Pest Risk Analysis carried out in August and concluded that:
the spores are unlikely to survive for more than a few days;
spore dispersal on the wind is possible from mainland Europe;
trees need a high dose of spores to become infected;
the spores are produced from infected dead leaves during the months of June to September;
there is a low probability of dispersal on clothing or animals and birds;
the disease will attack any species of ash;
the disease becomes obvious in trees within months rather than years;
wood products would not spread the disease if treated properly;
once infected, trees can't be cured; and
not all trees die of the infection, and some are likely to have genetic resistance.
Government scientists are working with their counterparts in other countries to learn from existing and emerging research and practical experience in combating the disease in countries which have had it for longer than the UK. Government scientific experts are also approaching companies with proposed treatment solutions for Chalara to rapidly evaluate their research to see if they have potential for further testing and development.
Published 2 November 2012