Press release
Giving train passengers more information on punctuality
Greater detailed information means passengers will be able to find out if train services run on time to within one minute.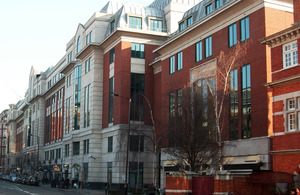 Passengers will from today (10 July 2012) be able to find out if train services run on time to within one minute under plans to make more detailed punctuality information available for the first time, Transport Minister Norman Baker announced this morning.
Already published Public Performance Measure (PPM) data currently shows how many trains arrive within 5 or 10 minutes of their scheduled time. Now new statistics published by the Office of Rail Regulation (ORR) today (10 July 2012) show the percentage of trains arriving early and within 1 minute of being on time.
Norman Baker said:
I want passengers to be given clear and simple information on the punctuality of their train services.

The coalition government wants rail travel to be more transparent and that's why we have worked closely together with the rail industry to ensure these statistics will be published.

This is good news for passengers, as 69.8% of trains on the network are arriving within 59 seconds of when they are supposed to - and 91.6% are meeting the PPM target. This compares very favourably with elsewhere in Europe and across other modes. I will be urging all train operators to go that extra mile and push these figures up even higher.
Transport Minister Theresa Villiers said:
We want to put passengers at the heart of how our railways are run. Providing more information on the punctuality of services is part of our wider commitment to increasing transparency across government.

We know the great importance placed by commuters and other rail passengers on the reliability and resilience of our railway network and today's publication is just one of a number of initiatives to give rail users more information about our railways.
The new information is being published at rail industry sector level from today - for London and south east services, for long distance services, and for regional and Scottish services. Further, more detailed data will be available by October.
Notes to editors
'Right time' information is derived from industry train reporting systems and covers trains which arrive early, on time and within one minute of the due time.
The existing public performance measure (PPM), which shows the proportion of train services arriving at their destination within 5 or 10 minutes, for short and long distance services respectively. PPM is and will remain the government's and industry's key measure of rail punctuality and reliability because:
it recognises the different passenger expectations and operating practicalities between short and long distance services
it incentivises the industry to ensure that the vast majority of services - significantly over 90% - get to their destination at or close to time
it gives the industry essential flexibility to manage minor operational disruption, which would not be possible with an absolute on time measure
The department already publishes monthly statistics on the reliability of journeys on the Highways Agency's strategic highway network of motorways and trunk roads in England, and detailed information on the performance of each link on that network is available on data.gov.uk. For example, in the year to April 2012, 83.5% of journeys on the strategic highway network were estimated to be on time against reference figures based on historic data for each link on the network.
Similarly, the Civil Aviation Authority (CAA) publishes punctuality statistics for the UK's 10 leading airports. For example, in the year to April 2012, 82% of domestic UK flights to and from Heathrow were early or within 15 minutes of due time, with an average delay of 9 minutes.
Related information
Press enquiries: 020 7944 3108
Out of hours: 020 7944 4292
Public enquiries: 0300 330 3000
Published 10 July 2012