Girls and women: Drive to end Female Genital Cutting
To mark International Day of Zero Tolerance for Female Genital Mutilation, Development Minister Lynne Featherstone met with activists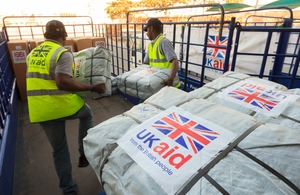 To mark the International Day of Zero Tolerance for Female Genital Mutilation (FGM), Development Minister Lynne Featherstone met activists and experts to find the best ways to end the practice.
Members of the of anti-female genital mutilation campaign group FORWARD met the minister to discuss how the practice can be ended in the UK and in Africa.
FORWARD - Foundation for Women's Health Research and Development - is a UK based charity run by diaspora African women working to end female genital mutilation, also known as female genital cutting (FGC), here and in Africa. They also tackle child marriage and obstetric fistula (a physical condition caused by difficulties in childbirth) which are often linked with FGM. They have 25 years' experience working with affected women and girls and at those at risk of FGM.
The meeting was an opportunity for the Minister to hear more about the work of FORWARD, some of the reasons that FGM still exists in Africa and amongst diaspora communities, and what can be done to tackle it.
Lynne Featherstone said:
Today is International Day of Zero Tolerance of Female Genital Mutilation and it is an opportunity to highlight this relatively little known practice. FGM has a devastating impact on women's and girls' physical and mental health, well-being and future opportunities. We can no longer shy away from FGM and what it actually entails. To dispel the taboo, we need to talk about the details.

FORWARD has carried out valuable work in engaging with diaspora women and teaching them that you don't have to be cut to be a valued member of your community. FORWARD and other organisations like them, have given women the skills to stand-up for themselves and brought open and honest discussion to diaspora communities about the practice and why it carried out.
Live discussion
Today at 12.45pm (UK time), the minister also took part in a live Google+ Hangout discussion on ending female genital cutting in a generation. The discussion took place with representatives from the United Nations Population Fund (UNFPA), UNICEF, the UK Department for International Development (DFID) as well as representatives from Senegal, Egypt and Kenya.
Participants in the discussion included Janet Tumer, a young woman from Kenya who fought back against the practice of female genital cutting in her own community, as well as the UK Permanent Under-Secretary of State for International Development, Lynne Featherstone. It was moderated by investigative journalist at the Guardian, Maggie O'Kane.
Published 6 February 2013