Gibb: Our reforms will allow all parents to send their child to a good school
Around 74,000 children have missed out on a place at their first-choice secondary school, official figures reveal today.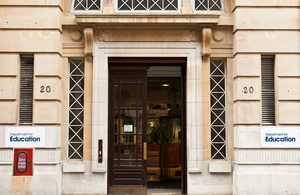 Around 74,000 children have missed out on a place at their first-choice secondary school, official figures reveal today.
That is around 5,000 fewer than last year. Schools Minister Nick Gibb welcomed the improvement but said that too many - around one in seven - would still have to attend a secondary school this September that was not top of their list.
The statistics show the secondary school offers made to more than 503,000 children by 151 local authorities in England on National Offer Day, March 1.
They show that nationally:
85.3 per cent of pupils were offered a place at their first-choice school.
95.9 per cent of pupils were offered a place at one of their top three preferred schools.
The North East continues to have the highest percentage of first preference offers at 95.1 per cent.
London continues to have the lowest percentage of first preferences at 67.2 per cent, though this is up 1.3 percentage points on 2011.
This year there were around 8,500 fewer children applying for a place at secondary school compared to 2011. The total number of places available remained broadly the same.
Schools Minister Nick Gibb said:
I am pleased that year-on-year more pupils are being offered a place at their preferred school. Unfortunately, whilst progress is being made, we are still some way short of making this a reality for all pupils. Around 74,000 children are still unable to attend the secondary school they want.
Parents are faced with an extremely competitive and stressful process for securing a place for their children. We want to ease this pressure by creating more good school places, which is the driver behind all our reforms to the education system.
The new admissions code will make it easier for the best schools to create more places. We have given teachers the power to curb bad behaviour, enabling them to concentrate on teaching. Academies and Free Schools have given parents more choice of good school places and their innovative approach to education encourages other schools to raise academic standards.
We are focusing on tackling underperformance in those schools that parents seek to avoid in their list of preferences.
New admissions and appeals code
The new admissions and appeals codes came into force in February this year following overwhelming support from parents. The new codes are simpler, fairer and less bureaucratic and the changes will go a long way in giving parents more choice.
Under the new admissions code, good schools will be allowed to increase the number of places they can offer. Free Schools and Academies will be able to prioritise pupils from the poorest backgrounds, ensuring they have more opportunities to benefit from innovative approaches to teaching.
The new appeals code has made it easier for parents to contest admissions decisions. They now have 20 school days in which to appeal, compared with 10 under the previous codes.
Notes to editors:
The statistics can be found on the Department for Education's website.

The admissions code came into force on 1 February 2012. Admissions for the September 2013 intake will be the first to be operated under the new codes.

A new "national offer day" for primary school will be introduced on 16 April 2014, ending the complexity and lack of clarity of the current system. Currently different admissions authorities release offers on different days. This can confuse and frustrate parents, especially those making applications for places in different local authorities.
DfE enquiries
Central newsdesk - for journalists 020 7783 8300
General enquiries - for members of the public 0370 000 2288
Published 22 March 2012