News story
Gary Barlow: Journey to Afghanistan
In October a bit of showbiz glitz and glamour came to Camp Bastion, with the arrival of X Factor judge and Take That star Gary Barlow.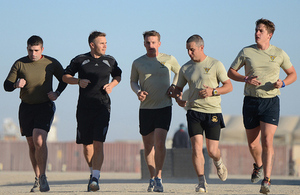 Gary visited Camp Bastion to spend two days with soldiers, sailors and airmen, both regulars and reserves, based at the hub of UK operations in Afghanistan. The visit culminated in a concert in front of 1,000 members of the Armed Forces, and it is all captured in a documentary due to air on ITV on 23 December.
But it's not exactly your ordinary forces concert with Gary on stage with his backing band. He spent the days before the performance scouring the camp for people who could get up on stage and be a part of it. Gary explained:
I didn't want to go there and be on a stage higher than everyone else singing and expecting everyone to just applaud me. I wanted to go there and really include everybody.
And he certainly achieves this. In what Gary describes in the documentary as the most memorable concert of his life, he is joined on stage by singers, guitarists, and even a ukulele player, all serving members of the Armed Forces based at Camp Bastion. And the team also had a stroke of luck as members of the Royal Artillery Band were visiting at the time.
The trip to Afghanistan was something that Gary had wanted to do for some time, but it had never come together before. And he is keen to point out that the real stars of the show were the people he met in Bastion.
I think we are all aware of what a great job they [British Armed Forces] are all doing but to go and see it is something else. To go and see the way it all works, this big team, that everybody is working towards the same goal, it's incredible.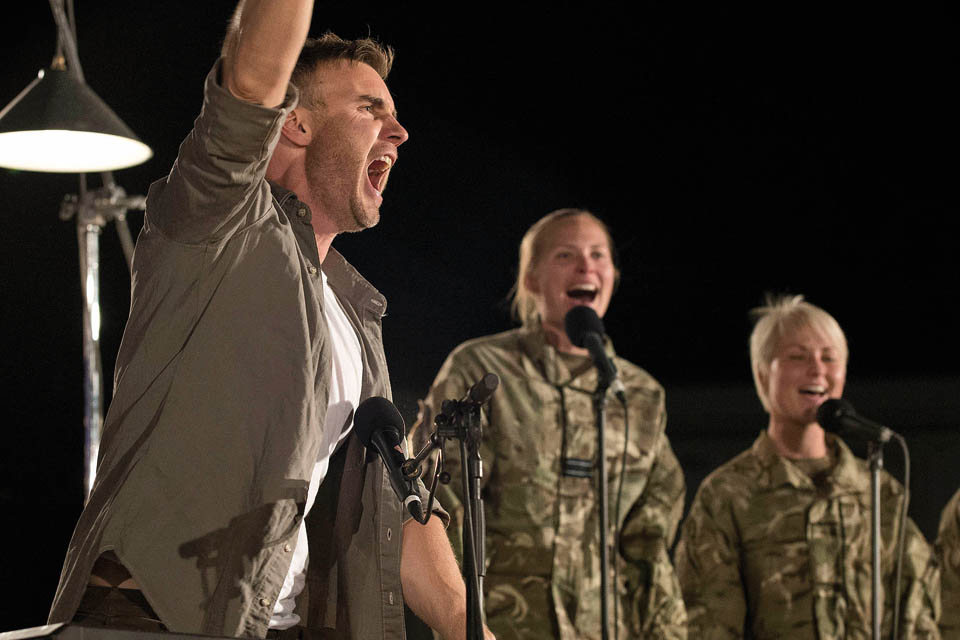 In scenes reminiscent of the X Factor auditions, Gary met up with promising musicians and singers in Camp Bastion. These included Senior Aircraftman Johnny Marenghi, a 21-year-old RAF medic on his first tour. Johnny never imagined when he went to Afghanistan that he would be singing a solo in front of his fellow troops, let alone being accompanied by Gary Barlow on the piano!
The concert was the best bit of the trip for Gary.
Not only the audience and the banter that they had, it was also getting the guys on stage. It was a great result and great seeing everyone afterwards and they'd all had a ball and their mates had cheered them on; it was just a great atmosphere, great positivity.
Also amongst the all-star Bastion band was Lance Corporal Sean Fowler, a 45-year-old Army reservist. A keen guitarist, Sean had brought his instrument with him to Camp Bastion and was gobsmacked when the X Factor star turned up and encouraged him to play. However, it wasn't just Sean who was affected by the meeting. Gary remembered:
I was fascinated by him [Sean]. He was my age and had just decided 'I want to do this'. His pride was very infectious. When you are around people like that who are so driven that they change their whole life to do something, you've got to admire it.
As for Gary himself, he had some preconceptions of what life would be like out there and much of that was turned on its head when he actually got there.
I thought the atmosphere was going to be quite down, that people would be like 'this place is horrible, we want to go home'. Of course, they do want to see their families but it's like 'no, I've trained for years to be here, and I'm at the top of my game, I want to be here'.
Major Richard Jones from PJHQ helped to organise the visit. He saw first-hand how important it is for the guys out there that someone like Gary Barlow makes the effort to come out and see them.
I think it has a bigger effect than I think people would imagine on the guys who are out there on an operational tour. Clearly, meeting Gary isn't normality as far as we're concerned! But it does bring a bit of home to us and the fact that he has gone out of his way is hugely important to the guys.
Gary Barlow: Journey to Afghanistan is on ITV at 9pm tonight.
Published 23 December 2013