Press release
Galloper offshore wind farm gets green light
Galloper Wind Farm Limited have been granted permission to construct a 504MW wind farm off the coast of Suffolk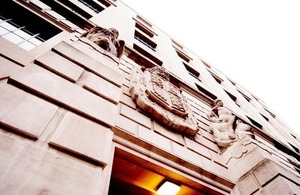 Press release 2013/052
Galloper Wind Farm Limited have been granted permission by Government to construct a 504MW wind farm off the coast of Suffolk and related infrastructure at Sizewell which will connect the wind farm to the electricity grid system.
The developer estimates that the 140 turbine development will provide enough electricity to power the equivalent of as many as 500,000 homes a year when completed in 2017.
The project could generate around £18 to 20 million of investment in Suffolk and create around 600 jobs across the country.
A Department of Energy and Climate Change spokesperson said:
"Galloper wind farm will provide large amounts of clean energy, support jobs and generate major investment in Suffolk.
"Offshore wind has an important role to play as part of a balanced energy mix. This development will enhance our energy security and help to reduce greenhouse gas emissions."
Notes for editors
The full documentation can be found on the National Infrastructure Planning website
Published 24 May 2013