Press release
G8 commitment puts open data on the global agenda for growth
The Open Data Charter was signed by G8 leaders on 18 June 2013 with the aim of driving growth and improving accountability.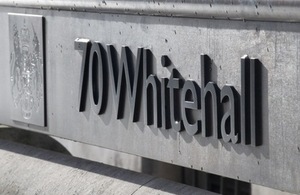 The signing of an Open Data Charter by G8 leaders at their summit in Northern Ireland today puts open data firmly at the forefront of international efforts to drive economic growth and to use transparency to improve accountability, said Minister for the Cabinet Office Francis Maude.
As current G8 president and lead co-chair of the international Open Government Partnership (OGP), the UK is promoting transparency and open data on the global stage as a means to fight corruption and drive prosperity. Transparency is also at the heart of the UK government's reforming agenda.
The Open Data Charter sets out 5 strategic principles that all G8 members will act on. These include an expectation that governments will publish data openly by default, alongside principles to increase the quality, quantity and re-use of the data that is released. G8 members have also identified 14 high-value areas – from education to transport, and from health to crime and justice – from which they will release data. These will help unlock the economic potential of open data, support innovation and provide greater accountability.
Francis Maude said:
Open data is changing the way we live and work. It is giving us more choice over how we spend, invest and use public services, allowing government to make better use of resources. The UK is a world leader in transparency and opening up government data, with over 40,000 data files on data.gov.uk. Through initiatives like the Open Government Partnership, of which we are lead co-chair, the international transparency and open data movement has come a long way in a short time.

The G8 Open Data Charter marks another milestone. The signatories have agreed a set of principles for making data as widely accessible as possible and in a form useable by all. This is a huge step forward and will be a particular boost for the innovators and entrepreneurs who can use open data to create products and businesses that will fuel growth in our economies.
Each member of the G8 will publish an open data action plan in October this year, showing how they will make more data available, in line with the charter and its principles. They will report back on their progress at future G8 summits.
On Friday, the UK committed to further releases of open data – from bodies including the Charity Commission – which when turned into applications will help citizens make more informed decisions about how they invest and the causes they support. This summer, HM Revenue & Customs will hold a public consultation on releasing parts of the VAT register as open data. One effect of new technologies to prove VAT registration could be to improve access to credit for businesses, especially small and medium-sized enterprises (SMEs).
At the end of last week, the government also published its response to the Shakespeare Review of Public Sector Information. Francis Maude announced that the UK would take forward open data implementation plans through its OGP National Action Plan, and collaborate with data users to identify datasets, particularly those supporting economic growth, for a new National Information Infrastructure, to be released by 2015.
Media enquiries
Out of hours 07074 667 000 (please note, this number cannot receive text messages)
Published 18 June 2013