Press release
G4, latest version of G-Cloud, goes live
G-Cloud 4 (G4), the fourth supplier framework for the procurement of government cloud technology services, went live today.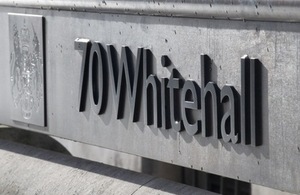 G4 went live today (29 October), with even more small and medium-sized enterprises (SMEs) given the opportunity to win government business.
There are now well over 1,000 suppliers offering their digital services to public sector buyers through G-Cloud.
G-Cloud allows the public sector to buy cloud-based digital services off the shelf, avoiding lock-in to expensive contracts with single suppliers, and encouraging cost-effective, innovative solutions.
G4 attracted a record number of submissions from suppliers. There are 999 suppliers on the new framework, compared with 700 in the previous procurement. This takes the total number of suppliers with services in the CloudStore catalogue to 1,186 – and 84% of these are SMEs. In all, CloudStore now features more than 13,000 services.
Cumulative sales from CloudStore broke the £50 million barrier last month, with 58% of the total spend of £53.5 million having gone to SMEs.
Minister for the Cabinet Office Francis Maude said:
Our reforms to government technology are designed to ensure the best possible service for users at the lowest cost for taxpayers. To make this possible we need a truly competitive marketplace. SMEs are a source of innovation and a crucial engine for growth. We will continue to knock down the barriers that have prevented them from winning public sector work in the past.

G-Cloud is a simpler, faster and cheaper way for the public sector to buy digital services. It allows companies of all sizes to benefit from our digital by default approach to government. I'm delighted that so many SMEs have won representation in this new iteration.

We will continue to embed our Cloud First principle in government and recommend it across the wider public sector.
G-Cloud director Tony Singleton said:
We are constantly working to improve G-Cloud and the CloudStore, making it more straightforward and less expensive for suppliers wanting to join the marketplace and for public sector customers to purchase the technology they need.

For G4, we have fed in valuable intelligence and opinions from buyers and suppliers. But the job of lowering barriers to participation and making the process as easy and open as possible goes on. If you would like to tell us about your experience of G-Cloud, please get in touch at enquiries@gcloud.cabinet-office.gov.uk.
A list of suppliers that have won places on the G4 framework can be seen on the Government Procurement Service website.
Published 29 October 2013