From:

Part of:

Published:

16 December 2016

Last updated:

20 December 2016, see all updates
The UK has confirmed that it will continue to provide funding to the Palestinian Authority with certain changes.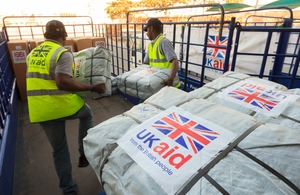 The UK has confirmed that it will continue to provide funding to the Palestinian Authority in order to maintain stability, provide vital services and build and strengthen the institutions needed for a viable two-state solution. However, certain key changes will be made to ensure this funding delivers the best value for money and maximum impact for Palestinians.
The decision forms part of an ongoing examination of UK aid to the Occupied Palestinian Territories, carried out by the Department for International Development, in close collaboration with the Foreign and Commonwealth Office, to ensure that support is reaching those it is meant to help, doing so as effectively as possible, and representing best value for money.
The UK government has confirmed it will continue funding to the Palestinian Authority (PA), but in order to ensure its effective use they have directed that certain critical changes are made to the UK's approach. These are:
UK support will now focus solely on vital health and education services, in order to meet the immediate needs of the Palestinian people and maximise value for money. Funding will only go towards the salaries of health and education public servants on a vetted list.
UK funds will no longer be used to support the salaries of Palestinian Authority public servants in Gaza who have not been able to work.
The UK will assess fiscal and public financial management reforms that the Palestinian Authority will need to show progress against in order to secure full future payments from the UK.
UK support to the PA will help to pay the salaries of up to 30,000 teachers, doctors, nurses, midwives and other essential health and education public servants on a vetted list. This will enable around 25,000 young Palestinians to get an education, provide up to 3,700 immunisations for children, and around 185,000 medical consultations annually.
DFID will provide up to £25 million to the PA this financial year. Future payments will be subject to annual sign-off by UK Government ministers after reviewing the PA's commitment to the UK Partnership Principles and progress against key reform indicators.
Notes to editors
EU Vetted list: The UK's financial aid to the PA will now be channelled directly through the EU's PEGASE mechanism (Palestinian-European Socio-Economic Management Assistance Mechanism). The decision to focus solely on the health and education sectors now means that channelling funding through the EU PEGASE mechanism offers the best value for money and the most effective way of directly providing support. The EU PEGASE mechanism uses a robust pre- and post-verification system which validates that the funds transferred from contributing donors into a dedicated PEGASE sub-account of the PA's Single Treasury Account are used for the payment of salaries of eligible beneficiaries on the PEGASE vetted list. The PA payroll is checked by independent auditors and payments made to all eligible beneficiaries are traced through the verification process. The list of eligible beneficiaries is subject to a vetting process that includes screening against international and ad hoc sanctions lists, covering a large number of different risk categories including terrorism financing. The verification processes are conducted in very close collaboration with internationally recognised independent audit companies.

Gaza civil servants: The UK remains committed to supporting the needs of Gaza while ensuring maximum impact and best value for money to the UK taxpayer. Some Gaza public servants employed by the Palestinian Authority have not been able to work since Hamas took control of the Gaza strip. Given this, the UK Government has now decided that it will no longer pay the salaries of Gaza public servants, on value for money grounds. In order to preserve stability in a context of very high unemployment, the Palestinian Authority will continue to pay the salaries of these public servants.

The UK Partnership Principles are a set of 4 principles against which the UK assesses partner governments. They are an important part of our decision-making process about the way we provide development assistance within a country with which we have an aid partnership. More information on the partnership principles.
Document information
Published: 16 December 2016
Updated: 20 December 2016
Added translation
First published.