News story
Future Cities mission highlights common themes in US success stories
Clarity of vision is required to successfully solve the challenges of cities, according to a report from a UK-US knowledge exchange mission.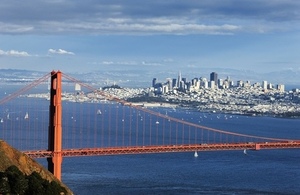 The Future Cities UK/US Knowledge Exchange Mission to Chicago, San Francisco and New York also found other common elements in US success stories, such as embracing an open data approach and involving universities in developing solutions.
Among the challenges that the US cities faced were:
a lack of strategic capability
complex governance holding up decision making
issues of trust and public acceptance
difficulty in scaling up ideas to full-scale deployment
The group of 14 delegates noted how larger organisations looked to startups and smaller businesses for fresh ideas and innovations.
The mission, from 29 January to 7 February 2014, met representatives of city governments, business and academia groups, looking to learn from their experiences and to share work being carried out in the UK.
It was supported and organised by Innovate UK, the Science and Innovation Network in the US (part of the UK Foreign and Commonwealth Office), the Knowledge Transfer Network and the Building Research Establishment (BRE).
Published 24 March 2015