Press release
Further measures to drive quality at alternative providers of higher education
Further measures to drive even higher standards across the higher education sector are announced.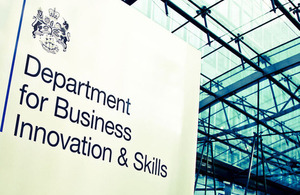 government adds further controls to provide greater protection to students and ensure high quality standards at alternative providers of higher education
consultation opens on proposals to better inform students about providers and courses and minimum English language requirements of students
Further measures to drive even higher standards across the higher education sector were today (27 february 2015) announced by Greg Clark, Minister for Universities, Science and Cities.
The new controls announced today will come into effect for the academic year 2015 to 2016. Student number controls will be used to limit recruitment at providers with unsatisfactory student completion rates or those deemed to be providing a poorer service than expected. Number controls will also be employed to limit the expansion of distance, part time and franchised courses.
Greg Clark, Minister for Universities, Science and Cities said:
In recent years alternative providers have played a significant role to widen access to higher education. Some have added to our excellent reputation and enjoy extremely high student satisfaction. However we are not prepared to let the actions of a small minority tarnish the reputation of all private providers.

Today's measures are another important step to ensure that the world-class reputation of the UK's higher education system is preserved and strengthened. Our commitment to ensure quality and value for money for government, the taxpayer and the students is unwavering. We expect all providers to adhere to these measures or risk losing their status.
The new measures will also require providers to give government better information about their provision to students, for example performance information including their drop-out and success rates. They will be required to submit data on their students' background and achievements to the Higher Education Statistics Agency, a requirement previously for only those with more than 50 full time students. As part of these new conditions, government will also formalise the right to access a provider's premises and records, and prevent any provider from engaging in behaviour that might bring the sector into disrepute.
In addition to today's new requirements, the government has opened a consultation on 3 further proposals:
the introduction of a minimum English language requirement to ensure that students studying for qualifications at alternative providers have sufficient language skills to succeed at their course
for alternative providers to provide prospective students with the information they need to make informed choices about their course, for example student satisfaction ratings, graduate salaries and employment, tuition fees, financial support and the cost of accommodation
how best to link the number of students providers can recruit to performance of the provider in the longer term
In January 2015, the government announced a number of steps to ensure that only students at high quality alternative providers can access government funded loans and grants; that alternative providers recruit only students who have the qualifications and ability to complete their courses; and that the best alternative providers can expand at the expense of those who are not performing.
Notes to Editors:
The consultation document and details of how to respond can be found at Alternative providers of higher education: improving quality and value for money
The Department for Business, Innovation and Skills (BIS) continues to work with the Student Loans Company, the Higher Education Funding Council for England and the Quality Assurance Agency, to regulate the system and oversee these changes.
These measures will be achieved by strengthening the designation process, the mechanism by which BIS authorises courses to be eligible for government loans and grants.
Published 27 February 2015