Further investment to secure future of credit unions
Credit unions will receive up to £38m of investment to modernise and expand so they can support one million more people.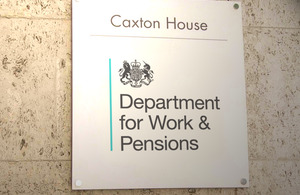 Credit unions will receive up to £38m of investment to modernise and expand so they can support one million more people, Minister for Welfare Reform Lord Freud announced today.
The £38m fund, which follows the £13m already invested last year, will help credit unions to buy in new IT systems and infrastructure needed to increase the numbers of people they help to save and borrow.
Lord Freud said:
Credit unions provide an essential service for communities and we want to help them to extend the support they provide.

Credit unions are growing - almost doubling in membership since 2006 - but we want them to be a mainstream option for savers and borrowers just as they are in other countries and to ditch the image of a 'poor man's bank'.

Our investment will help credit unions reach up to one million new customers providing a real alternative to rip-off interest rates from payday loans, doorstep lenders and illegal loan sharks.
The investment in credit unions follows the decision by the Government to take forward the recommendations of the independent Credit Union Feasibility Study to help secure the industry's long term financial sustainability.
The project's Feasibility Study found even the biggest credit unions struggle to meet the operating costs of making small loans to people on lower incomes.
The Government will also consult on allowing credit unions to increase the 2% monthly cap they face on interest rates.
Notes to Editors:
Up to £38m will be invested up to March 2015 to help credit unions expand.
Loans from Credit Unions can save borrowers on average £401 a year.
People with incomes in the lowest 10% bracket would be able to save between £5 and £20 per week if they had access to a trusted local Credit Union
Credit unions offer the most competitive interest rates on personal loans of up to about £3,000 in the UK market.
up to 7 million people use sources of high cost credit
1.4 million have no transactional bank account at present
4 million incur regular bank charges
0.85 million incur financially crippling levels of bank charges because they need help to manage their money better
Just 2% of people in the UK are members of a Credit Union, compared to 24% in Australia, 44% in the United States and up to 75% in Ireland.
Published 27 June 2012