News story
Further flood support from government
£61 million for rail resilience and roads recovery.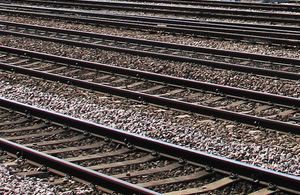 The Prime Minister has reaffirmed government's commitment to tackle the impact of flooding with a further £61 million to help repair damaged roads and build greater resilience into the railways of the south west.
At Prime Minister's Questions today (12 February 2014) David Cameron gave the go ahead for a £31 million scheme to deliver 10 rail resilience projects including works at Cowley Bridge in Exeter, to improve resilience to flooding.
He also announced a further £30 million for local authorities in England affected by the severe weather for road maintenance, including pothole repairs. This is on top of the £3.5 million transport element of the £7 million flood recovery package announced on 17 January 2014.
Secretary of State for Transport Patrick McLoughlin said:
We are facing exceptional weather conditions right now. We're working with transport operators to make sure everything that can be done to reduce the impact of the storms and floods on our transport system and speed up recovery is being done. We're also determined to boost the resilience of the transport network against future severe weather. The funding the Prime Minister has announced today (12 February 2014), along with the other measures we are putting in place, will help make this happen.
Mr Mcloughlin will also shortly be meeting key figures from the bus and coach industry to ensure that all modes of public transport are playing their part in relieving pressure from those parts of the network that are bearing the brunt of the bad weather and impress the importance of planning for any further capacity that might be needed if severe weather continues or affects other parts of the country.
With added pressure on roads, the Transport Secretary also reiterated the importance of the Highways Agency continuing to ensure that routes affected by rail disruption are kept clear by lifting roadworks, providing additional support from traffic officers and deploying plant and recovery operators at key locations.
This builds on the announcement that airline Flybe will boost the number of flights between Cornwall and London and their agreement to keep keep prices at the same level as before the weather disruptions. On Monday (10 February 2014) the Prime Minister also announced a government subsidy to allow Newquay Airport to waive a £5 airport development fee usually charged to those departing from the airport.
In addition, rail operator First Great Western has put in place special ticketing arrangements so that rail passengers who are affected by flood disruption do not miss out on cheaper advance fares while revised timetables are put in place.
The 10 rail resilience projects will see Network Rail undertaking work at the following locations:
Cowley Bridge Junction
Chipping Sodbury
Hinksey
Whiteball Tunnel South
Athley – Cogload
Hele Bradninch
Flax Bourton
Patchway up Tunnel
earthworks strengthening at Honiton and Crewkern
Network Rail will also install rainfall, river flow and groundwater monitoring around Cowley Bridge Junction and Chipping Sodbury.
Rail media enquiries
Media enquiries 020 7944 3021
Out of hours media enquiries 020 7944 4292
Switchboard 0300 330 3000
Published 12 February 2014