News story
Further consultation on Dover privatisation plans
Minister requests further information on the impact of Port of Dover privatisation plans.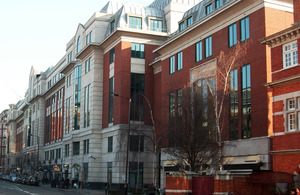 Proposals for the privatisation of the Port of Dover are set for further public scrutiny after Shipping Minister, Mike Penning, asked Dover Harbour Board to publish additional information about their plans.
In January 2010, the board published proposals which would enable it to privatise the Port of Dover, bringing in outside investment to help increase capacity. These plans were subject to an eight-week public consultation.
In a written statement to Parliament this morning, Mr Penning asked the board to publish further work they have since carried out on the likely impact of the scheme, including details on proposals for a Port of Dover Community Trust and Share Employee Ownership Trust. He also requested a further period of consultation with interested parties, which will begin in the next few days.
Mike Penning said:
Dover is a vital piece of our national infrastructure and it is important that local residents, port users and other organisations have a say in its future. I have therefore asked the Board to publish some more information on their plans, as well as providing the opportunity for additional consultation. This will give all individuals with an interest in the Port of Dover a further and better-informed opportunity to comment on the Board's proposals.
Further information
The period for further representations is expected to begin in the next few days and will close on 27 August 2010.
The Port of Dover is a trust port, which means it has no owners or shareholders and any surpluses are reinvested in the port.
In January, Dover Harbour Board submitted a transfer scheme to the Department and published it with proposed revised articles of association and a briefing document
Under the Ports Act 1991, if a scheme is approved by the Secretary of State, the trust port concerned may transfer its assets and liabilities into an operating company, which can then be sold.
Maritime media enquiries
Media enquiries 020 7944 3021
Out of hours media enquiries 020 7944 4292
Switchboard 0300 330 3000
Published 21 July 2011