Funding to tackle homelessness
Communities Minister Andrew Stunell has announced £18.5 million for the voluntary sector to help tackle rough sleeping across England.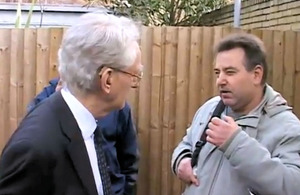 On a visit to the Broadway Centre in Shepherd's Bush - a charity-run day centre for rough sleepers - the minister said the money was part of the £100 million a year commitment made by the Coalition government to prevent and tackle homelessness.
Watch a video about Andrew Stunell's visit
Video transcript (MS Word Document, 24KB)
Mr Stunell made the announcement on the same day new figures showed that 1,768 people spend the night sleeping rough.
He said that for too long the figure hasn't reflected the reality on the streets, as not all councils had provided a figure. So to give a clearer picture of the scale of the problem in each area of the country, the government now asks all councils to provide a robust estimate or a count of those sleeping rough in their area.
Andrew Stunell said:
"I'm delighted to be able to announce £18.5 million of funding this year alone directly for the voluntary sector; on top of the £81.5 million we give to councils.
"Charities play a key role in getting people off the street and setting them up with a roof over the head and giving them the skills then need to consider employment. It's at the heart of the Big Society and will help achieve our objectives of reducing the number of people sleeping rough every night.
"Homelessness is a very real and worrying problem in our country and charities play a key role in providing shelter, food and support to those who find themselves sleeping on the street. That's why at the Spending Review we entirely protected the funding for tackling the misery of rough sleeping and committed to spending £100 million a year on it."
Published 17 February 2011