Funding for tighter security to protect Jewish schools from anti-semitism
Michael Gove announces up to £2 million to fund tighter security measures in Jewish faith schools.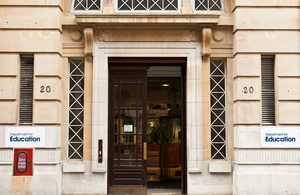 Education Secretary Michael Gove today confirmed up to £2 million to fund tighter security measures in Jewish faith schools.
Community Security Trust (CST), a charity working to ensure the safety and security of the Jewish community in the UK, will receive revenue funding for the extra measure of security guards at 39 Jewish voluntary-aided faith schools across England.
Parents of children at these schools currently pay around £1.6 million a year out of their own pockets, along with the CST providing £400,000, to ensure their children have a school environment safe from any potential anti-semitic or racist threats.
Schools are responsible for funding general security measures such as fencing, gates and CCTV out of their main school budget. However, following assessments obtained by the CST, the extra security provided by guards in place at Jewish faith schools helps ensure pupils and staff remain safe.
Confirming the funding on the last day of Chanukah, the Jewish Festival of Lights, Michael Gove said:
Faith schools make a fantastic contribution to our education system and none more so than Jewish faith schools, which teach children the importance of ethos, values and a belief in social justice.
Children and staff at these schools should feel safe at school and able to learn in an environment free from any anti-semitic or racist threats. That is why I have secured funding of up to £2 million for 2010-11 to be made to the 39 schools via the Community Security Trust.
The first payment of £650,000 will be paid in arrears for the autumn 2010 term, with up to £2 million funding being provided for 2010-11, subject to further evaluation.
Richard Benson, Chief Executive of Community Security Trust, said:
CST is grateful to the Secretary of State for recognising the importance of security provision at state-funded Jewish schools, and for the time he and his Department have spent assessing the problem and constructing a viable solution. We will work with the Department for Education and the Jewish school sector to ensure that the funding for school security is distributed efficiently and according to need.
Joshua Rowe, Chair of Trustees at King David Schools in Manchester, welcomed the news:
What a wonderful Chanukah present for the whole Jewish community. We hugely appreciate the support the Secretary of State for Education and the Government will now offer - to ensure that our schools and pupils receive the protection they require and deserve.
DfE enquiries
Central newsdesk - for journalists 020 7783 8300
General enquiries - for members of the public 0370 000 2288
Published 8 December 2010