Press release
Funding for new ways to encourage voter registration
New funding will help to boost voter registration in Great Britain and make sure that everyone in the country has the chance to vote.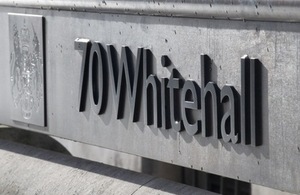 The government today announced that 5 national organisations and every local authority in Great Britain will be sharing £4.2 million funding aimed at ensuring everyone in the country is signed up to the electoral register and has their chance to vote.
5 organisations have been selected to receive funding to find new ways of reaching out to groups who feel most distant from the political process, and encouraging them to get involved in politics and register to vote. They will deliver innovative ideas, trial new approaches and develop materials to improve engagement with the democratic process which are to be made available widely. The organisations are:
In addition to these national organisations, additional funding is being allocated to local authorities across England, Scotland and Wales to boost their efforts to get as many people as possible onto the electoral register, including using the Rock Enrol! school resources launched by the government last summer.
This funding comes as preparations continue for the switch to Individual Electoral Registration from June 2014 in England and Wales and September in Scotland, when people will register individually rather than as households, and online registration will be available for the first time.
Greg Clark, Minister of State in the Cabinet Office, said:
I want to see more people from across society engaging in the democratic process and everyone should get their say at elections. Ensuring more people are registered to vote is vital in this process.
Jan Tregelles, Chief Executive of the Royal Mencap Society, said:
Royal Mencap Society is delighted to be awarded funding to help people with a learning disability become part of the democratic process. This funding is a truly positive step towards engagement and inclusion. This project will enable people with a learning disability to influence decisions which will have a real impact on their everyday lives.
Michael Raftery, Director of Learning at the Hansard Society, and Tasmin Maitland, Head of Innovation and Good Practice at Homeless Link, said:
The Hansard Society and Homeless Link, with the support of the Cabinet Office, are pleased to be joining forces. We're delighted by the chance to help make a difference to this issue. With the help of homelessness charities and housing associations we hope that in the future more people will be having their say.
Gingerbread Chief Executive Fiona Weir said:
Many single parents we work with tell us that they want to have their voices heard on the issues that matter to them and their families – but we know that overall they are likely to be under-represented among voters. We are excited to receive this grant from the Cabinet Office to work with single parents to understand how to encourage them to register and use their vote.
David King, Programme Development Manager, UK Youth said:
We are delighted to be inputting this democratic engagement initiative for young people since they are significantly under-represented on the electoral register. It is particularly important to engage young people long-term in democratic processes. Young people have a tremendously positive impact on our society and they need the tools to be able to formalise their input.
Chair of the Scottish Youth Parliament, Kyle Thornton MSYP, said:
The Scottish Youth Parliament is excited to be working with the Cabinet Office to improve voter registration. Members of the Scottish Youth Parliament have worked tirelessly to engage young people in democratic participation. We believe it is important the voices of young people are heard in elections, and we're delighted to have the opportunity this year to increase the democratic engagement and registration of young people aged 18-24 on the electoral register in Scotland.
Published 5 February 2014