News story
Funding for homelessness projects
Over 60 projects will receive a share of £42 million to help people who are currently homeless or at risk of becoming homeless.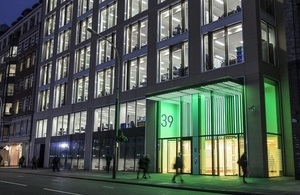 The Department of Health has awarded £38.7 million of grants to homelessness and housing charities who were invited to bid for funding in March 2015 - another £3.4 million has been provided by the Greater London Authority.
Minister for Public Health Jane Ellison said:
We want to help homeless people get back on their feet, into safe accommodation and get the skills, and importantly, healthcare they need to get on in life. We also want to help prevent homelessness in younger people who are at risk.

I congratulate all the projects that were successful in getting funding. I hope this money will help them in the vital work they do all year round, including during the festive season.
The money is being made available under the Homelessness Change and Platform for Life programmes over the next 2 years.
Homelessness Change is designed to improve hostel accommodation and facilities so that better healthcare can be delivered in them, and help rough sleepers avoid unnecessary hospital stays. It also gives people extra support such as education and training.
The Platform for Life scheme aims to provide shared rented accommodation for young people aged 18 to 24 who are at risk of homelessness. The money will fund time-limited tenancies that are linked with participation in work, further education, or vocational training. This will help give young people the skills they need to maintain employment and have a healthy and successful life.
Communities Minister Marcus Jones said:
Homelessness is not just about getting a roof over people's heads, it's also about ensuring people never become homeless again. Today's announcement demonstrates the cross-government commitment to tackling homelessness and providing support to some of the most vulnerable in our society.

This funding targets resources on initiatives to improve the life chances of homeless people through a combination of health, education and work support programmes. Ultimately these initiatives will work to prevent anyone facing a homelessness crisis again.
See a full list of the 60 projects and how much funding each will receive.
Published 22 December 2015