Funding for deprived pupils set to double
Details about a rise in the pupil premium fund.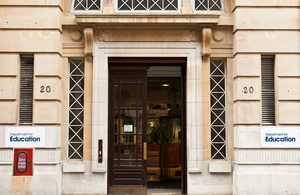 The total funding available for the Pupil Premium is set to double and will rise to £1.25bn in 2012-13.
The Pupil Premium began to be allocated to schools this year and is targeting funding at pupils from low income families who generally do not achieve as well as pupils from more advantaged backgrounds. Government funding will support them in reaching their potential and help schools reduce educational inequalities.
Children's Minister Sarah Teather confirmed that the total funding available for the Pupil Premium will be £1.25bn in 2012-13. This is a rise from £625m in 2011-12, and will rise again each year until 2014-15 when it will be worth £2.5bn.
Children's Minister Sarah Teather said:
The amount the Government is making available through the Pupil Premium will double next year and I am delighted to announce this increase. It shows this Government's commitment to reforming funding for schools to make it fairer for the most deprived children.

It is our responsibility to close the gulf in achievement, where the poorest children are almost three times less likely to leave school with five good GCSEs than their richer classmates.

This extra funding will help tackle inequality and make sure thousands of children get the extra support they need to succeed and reach their potential.
Per pupil allocations and how the Pupil Premium will be distributed in 2012-13 has not yet been finalised. This will be announced in due course.
Notes to editors
The Pupil Premium is in addition to main school funding provided through Dedicated Schools Grant.

The method for determining eligibility for the premium and therefore the allocation per pupil in 2012-13 is subject to the school funding consultation.

From this year the school performance tables will include information that holds schools better to account for the contribution they make towards narrowing the gap in attainment between pupils from low income families and their more advantaged peers. This will also help demonstrate the impact of the Pupil Premium.
DfE enquiries
Central newsdesk - for journalists 020 7783 8300
General enquiries - for members of the public 0370 000 2288
Website: www.education.gov.uk/help/contactus
Published 19 September 2011