News story
Funding boost to tackle beds in sheds
Housing Minister Mark Prisk has pledged to "up the pressure" on criminal landlords who trap vulnerable tenants in so-called 'beds in sheds'.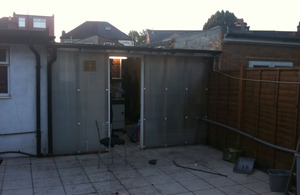 He gave a funding boost to 4 London boroughs to further support their ongoing efforts to tackle the problem head-on and end this practice.
Beds in sheds are often rented to migrants, including some with no right to be in the UK, at extortionate rates.
Over the past year locally-led efforts, backed with government cash, have led to councils working more closely with the police and UK Border Agency to flush out these rogue landlords, and to get a better sense of the scale of the problem.
Mr Prisk said today's funding - nearly £800,000 - will help the 4 London boroughs with the biggest problems of beds in sheds to continue their work over the next year.
These councils are:
Ealing
Hillingdon
Newham
Redbridge
The minister recently saw for himself the efforts being made to tackle beds in sheds when he attended an early morning raid with housing officers from Ealing Council, along with the police and UK Border Agency. This dawn activity led to 17 arrests.
Today's announcement complements wider government efforts to ensure fair play in taxpayer-funded social housing and to crack down on rogue landlords who cash in on renting out homes to illegal immigrants.
New rules set out by the Prime Minister on Monday will ensure that councils give priority to local people when allocating their social housing, and will in future require private landlords to make simple checks on new tenants to make sure they are entitled to be in this country.
Mark Prisk said:
"I've seen for myself the squalid, unsafe and often illegal accommodation that vulnerable people are being forced to pay extortionate rates to live in. I'm determined that we up the pressure on those renting out beds in sheds and help their tenants out of these appalling living conditions.
"That's why I'm backing the locally-led efforts in these 4 London boroughs with government cash to ensure this vital work is allowed to continue so we can end this practice and put these illegal landlords out of business."
Mark Harper, Minister for Immigration said:
"We are determined to crack down on immigration offenders and anyone found living or working here illegally is liable to being detained and removed. We will help those who wish to leave voluntarily but will enforce the removal of those who refuse.
"Operations like this show our determination to do whatever is necessary, working alongside local authorities and police, to enforce our laws against those who are in the UK illegally."
Further information
A total of £790,000 will be shared among the 4 London boroughs.
| | |
| --- | --- |
| Ealing | £270,919 |
| Hillingdon | £183,141 |
| Newham | £227,572 |
| Redbridge | £108,368 |
Published 27 March 2013