Press release
Funding boost for Tyne and Wear Metro
Tyne and Wear Metro set for £23 million funding boost.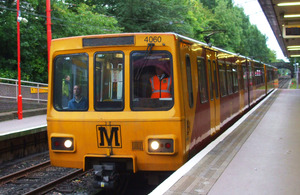 The Tyne and Wear Metro is set to benefit from a £23 million funding boost, Local Transport Minister Norman Baker confirmed today (8 February 2013).
The Department for Transport has confirmed that it has awarded Nexus, the Tyne and Wear Passenger Transport Executive, a total of £93 million which is the maximum possible funding under the 2010 Funding Agreement for renewing and upgrading the Tyne and Wear Metro for the next 3 years.
The funding will allow Nexus to create about 60 new jobs to deliver projects within its Metro: all change modernisation programme – as well as sustaining hundreds more among engineering and transport contractors.
Local Transport Minister Norman Baker said:
This is a major programme of renewal of the Metro infrastructure and will bring real benefits to the people and economy of the North East.

The money gives Nexus the certainty to plan ahead and deliver the best outcomes for Metro users.

The Department for Transport is determined to support the North East of England in its efforts to deliver better transport for everyone and to cut carbon emissions.
The Tyne and Wear Metro is Britain's busiest light rail network outside London, used by 38 million passengers every year.
The funding announced today will allow Nexus to deliver key projects between 2013 and 2016 which include:
renewing tracks and trackbeds from Tynemouth to Gateshead, including the busiest section of line through Newcastle city centre
completing the refurbishment of the Metro train fleet
continuing the refurbishment of 45 stations in total, including stations in the Newcastle, Gateshead and South Tyneside areas
introducing smart travel to the Metro with the Pop card, including new ticket machine technology, gate lines and validators
starting the system-wide replacement of vital overhead power lines, as well as upgrading communications and signal systems
Ken Mackay, Director of Rail and Infrastructure at Nexus, said:
We are delighted the government has shown its commitment to Metro modernisation by confirming funding in full, including the conditional element.

The £93 million we will receive gives us the financial security to create 60 new jobs delivering modernisation on the ground, in addition to the contracts we will offer to leading engineering and transport contractors.
This commitment from government is a vote of confidence in the efficient, effective inward investment we are delivering for Tyne and Wear through the Metro: all change programme.
Notes to editors
DfT and Nexus agreed an 11-year funding programme for Metro in February 2010, worth up to £350 million, with £100 million of that subject to future commitments being met. This programme was confirmed by the coalition government when it took office in May 2010.
Today's £23 million announcement confirms the full possible amount of grant for years 4-6 of the modernisation project. The total amount confirmed is £93 million over 3 years to 2015 to 2016, which together with the required local contribution of £10 million will mean investment of over £100 million in the next 3 years.
Metro: all change is the largest renewal project on the Tyne and Wear Metro since it was opened in 1980.
It has already seen Nexus replace 18 kilometres of track and trackbeds plus associated structures, refurbish 10 stations and 20 Metrocar trains, replace lifts and escalators at key stations and introduce 225 new smart ticket machines.
News desk enquiries
Press enquiries 020 7944 3021
Out of hours 020 7944 4292
Switchboard 0300 330 3000
Published 8 February 2013