Funding boost for strong homelessness safety net
Cash to help advice service continue Advice and support services for frontline staff helping families facing the real and frightening prospect…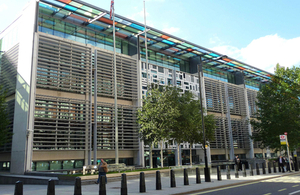 Cash to help advice service continue
Advice and support services for frontline staff helping families facing the real and frightening prospect of homelessness are to receive a cash boost from Government, strengthening one of the world's strongest safety nets against homelessness, Housing Minister Grant Shapps announced today.
It comes as new figures today show that councils have already helped over 13,000 vulnerable households secure alternative homes and avoid living on the streets, showing that many people are still suffering from the legacy of a debt-laden economy.
Mr Shapps announced £3.4 million to the National Homelessness Advice Service to ensure it continues to deliver the vital support services to equip local agencies to help thousands of families across the country.
Today's funding, to be shared between Shelter and the Citizens Advice Bureau, will help provide:
Vital training for homelessness advisors
A National Information Service to keep advisers up to date on homelessness prevention law
Help with mortgage debt and money advice for those at risk of repossession; and
Legal services for local advice bodies like councils and voluntary organisations.
Today's funding is part of the £400 million Government funding already in place to help those at risk of homelessness until 2015.
In addition, £70 million has been made available for homelessness services including:
£20 million Homelessness Transition Fund to help protect vital front line services
£20 million Preventing Repossessions Fund to enable local authorities intervene earlier and help people stay in their homes
£18.5 million Single Homelessness Prevention Fund to help ensure single homeless people get access to good housing advice
£5 million boost to the Homelessness Change Programme to deliver improved hostel provision and provide over 1,500 new and improved bed spaces.
Housing Minister Grant Shapps said:
This country has one of the strongest safety nets in the world to protect families and vulnerable households from losing their home, which has helped ensure homelessness remains lower than for 28 of the last 30 years and half the average rate under the previous administration. I am determined that we do all we can to keep this in place.

But it is clear that the earlier families act, the more options are available to help avoid the worst. That's why today's cash boost is vital to ensuring that when people ask for help, the practical advice and expertise is there.

No hard-up household at risk should fall through the cracks - today's new funding will help ensure that everyone has access to support when they need it most.
Figures published today show that councils helped over 13,000 vulnerable households secure alternative accommodation when faced with the prospect of homelessness.
Councils have a duty to provide help for households facing homelessness through no fault of their own and in priority need, and can provide free advice and information to prevent homelessness.
Under the Localism Act, councils will have greater powers to fulfil this duty by housing people at risk of homelessness in stable, secure accommodation in the private rented sector.
This will mean shorter waiting times for homeless households, and will leave councils better equipped to help the 50,000 families currently living in temporary accommodation.
Notes to editors
Details of today's figures can be found at: www.communities.gov.uk/publications/corporate/statistics/homelessnessq12012.

The average levels of homelessness acceptances have been calculated as an annual average of 97,300 from 1998 to 2009 for the previous administration, compared with 48,500 in 2011 for the current Government (source: Live table 770).

The Department for Communities and Local Government is providing £3.4 million homelessness grant voluntary sector funding to the National Homelessness Advice Service (run by Shelter and Citizens Advice Bureau) in 2012-13.
Published 14 June 2012