Press release
Funding boost for roads in the Isle of Wight
Isle of Wight roads to improve after given Private Finance Initiative funding.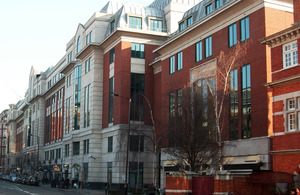 The Private Finance Initiative (PFI) funding will allow the Isle of Wight Council to carry out vital improvements and maintenance to local roads over a 25 year period.
This project will include the management and maintenance of over 497 miles of highways, over 12,000 street lighting columns and a further 2,000 or more illuminated street furniture items. The project will also encompass the Island's roads, pavements and cycleway network, bridges, retaining walls, CCTV, street lighting, car parks and traffic lights.
Transport Minister Norman Baker said:
Well maintained local networks which work well for all road users – motorists, cyclists, pedestrians and public transport passengers – are vital for communities and encourage businesses to thrive.

The funding this government has agreed will bring better, safer roads and more reliable journeys to the people of the Isle of Wight. This contract will see the condition of the Island's roads greatly improved.

I very much look forward to seeing the improvements this vital funding will bring.
Isle of Wight is expected to commence operation of this project on 1 April 2013.
Notes to editors
The Department for Transport press notice issued on 20 October 2010, following the spending review, set out the government's intention to proceed with a number of local authority PFI projects in procurement, subject to ensuring affordability and value for money.
Following a savings exercise we announced re-approval of the 3 highways maintenance schemes in March 2011 which allowed the promoters to complete their procurement process.
This scheme will allow Isle of Wight Council rehabilitate the Island's roads, footways, street lighting and other aspects that are related to the highway. It includes almost 497 miles of road and 477 miles of footway. The project also includes 12,000 street lights, a number of bridges and other structures.
News desk enquiries
Media enquiries 020 7944 3021
Out of hours media enquiries 020 7944 4292
Switchboard 0300 330 3000
Published 26 September 2012