Press release
Funding boost for new affordable homes
Kris Hopkins welcomes deal to release £500 million funding to build new afforable homes.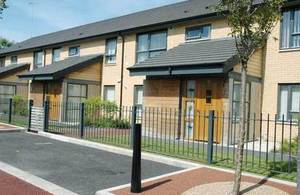 Housing Minister Kris Hopkins today welcomed a deal that will release £500 million additional funding to build new affordable homes across the country.
This new investment, secured through an agreement with the European Investment Bank (EIB), will help deliver up to 4,300 new affordable homes to rent.
The funding will form part of the £3.5 billion Affordable Housing Guarantees programme, which enables housing associations to use a government guarantee to secure private investment at more competitive rates than they would otherwise.
Kris Hopkins said:
Today's deal with the European Investment Bank is a vote of confidence in our ongoing efforts to restore confidence to our housing market and get Britain building.

This £500 million investment will help deliver up to 4,300 new affordable homes across the country, on top of the 170,000 affordable homes we've already delivered since 2010.
Jonathan Taylor, European Investment Bank Vice President responsible for the UK said:
The initiative launched today will significantly enhance construction of affordable housing by housing associations across the country.

The European Investment Bank recognises the importance of long-term investment in the housing sector and is pleased to work with the UK government and experienced housing partners through this new, large scale programme.

Following the £500 million EIB loan formally agreed today, we look forward to further engagement with the UK housing sector in the coming months.
Richard Blakeway, the Deputy Mayor for Housing, Land and Property said:
This new funding will help many hard working people who need, and rightly deserve, decent low cost homes. Tackling the demand for housing is a key priority and we all need to work closely together to boost affordable housing supply in London and across the UK.
First borrowers
Mr Hopkins also confirmed the first eight housing associations to receive funding through Affordable Housing Guarantees. They are:
Devon & Cornwall Housing Limited, who will borrow up to £85 million to build 887 homes in those counties.
Hexagon Housing Association will borrow up to £12.5 million to build 74 homes in Greater London and the South East.
First Wessex will borrow up to £88 million to build 589 homes in Hampshire and Surrey.
Great Places will borrow up to £50 million to build 674 homes in Manchester and the North.
Wales and West Housing Association will borrow up to £25 million to build 251 homes in Wales.
Adactus will borrow up to £27 million to build 344 homes in Greater Manchester and Lancashire.
Home group will borrow up to £61 million to build 642 homes in England.
Paradigm will borrow up to £65 million to deliver up to 594 homes across South and East England, and Greater London
Together, they will receive up to £400 million to build, own and manage up to 4,000 homes.
Further information
See details of the Affordable Housing Guarantees scheme.
The Affordable Housing Guarantees scheme is one part of a wider package of measures being taken to get Britain building and deliver thousands more affordable homes.
The government is investing £19.5 billion public and private funding to deliver 170,000 affordable homes over this Spending Review, and will invest around £23 billion public and private funding between 2015 and 2018 to deliver a further 165,000 homes.
Published 7 January 2014