Press release
Funding boost for low carbon heating
24 local authorities across England and Wales have been awarded more than £2.1 million to support the development of heat network projects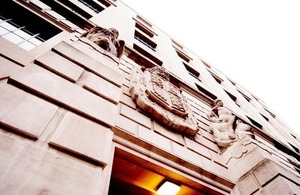 Minister for Energy and Climate Change Greg Barker today announced the latest round of successful projects through the Heat Networks Delivery Unit that will provide heating to local homes and businesses through new projects using a range of low carbon technologies, including energy from waste or recovered heat taken from industry.
Each project is designed to provide more efficient heating to buildings which can help to drive down consumers' heating bills and reduce emissions.
Energy and Climate Change Minister Greg Barker said:
This is another step the Coalition Government is taking to help drive down the long term cost of energy bills. Heat networks are a defining part of our smarter, cleaner energy future.

Local authorities are looking at innovative ways to supply low carbon heat to a range of buildings such as multi-storey apartments, office buildings and social housing.
Since the first round of funding at the end of January 2014, interest from local communities has grown with more than 50 local authorities so far receiving grants ranging from £15,000 to £250,000 each.
As part of the funding, councils will be given commercial and technical support and guidance, including assistance in developing robust business plans to help attract commercial investment to supply heat efficiently and cost-effectively to homes and businesses.
All bids were reviewed by a panel of engineering, financial and commercial experts with significant experience in heat networks development. Bids were assessed against a range of criteria including technical feasibility, commercial viability, future carbon saving and social benefits.
The remaining pot of grant funding, worth £7m in total, will be allocated through subsequent funding rounds, running to March 2015. Round 3 opens on 12 May 2014 and closes on 27 June 2014. The successful third round of local authorities will be announced by in August-September 2014.
Notes for Editors:
Heat networks supply heat to a number of buildings or dwellings from a heat generated at a central source and supplied through a system of insulated pipes. Heat production at this communal, rather than individual scale, is more energy efficient, delivers carbon savings, and can reduce consumer bills. Modern heat networks allow individual properties to control their own temperatures just as they would with other heating sources.

The Government's Heat Network Delivery Unit was established in September last year with a £7 million fund to promote heat networks. Grant funding is accompanied by support from experts in the Unit to assist local authorities develop investment grade proposals for heat networks.
The winning 24 local authorities for Round 2 are:
Allerdale Borough Council
Bath and North East Somerset Council
Blaenau Gwent County Borough Council
Bridgend County Borough Council
Copeland Borough Council
Cornwall Council
Devon County Council
East Riding of Yorkshire Council
Hull City Council
Knowsley Metropolitan Borough Council
Leeds City Council
London Borough of Camden
London Borough of Hackney
London Borough of Merton
Manchester City Council
Neath Port Talbot County Borough Council
Newcastle City Council
Sefton Metropolitan Borough Council
Sheffield City Council
Staffordshire County Council
Stoke-on-Trent City Council
Warrington Borough Council
Westminster City Council
Wiltshire County Council
Details of how to apply for funding under the heat networks funding stream can be found here. Along with the successful Local Authorities from Rounds 1 and 2.

An estimated 15% of UK heat demand could be cost effectively met by heat networks by 2030 and around 40% by 2050. The recent report by the Committee on Climate Change agreed with DECC that heat networks can play an important part of the overall plan for lower carbon heating in the decades ahead. There are currently approximately 2,000 heat networks in the UK, supplying heat to 200,000 dwellings and 1,500 commercial and public buildings. A further 150 schemes are known to be under development by local authorities across the UK.
Published 26 March 2014