News story
Funding boost for aspiring self-builders
Housing Minister Mark Prisk relaxes the funding rules for the Community Right to Build.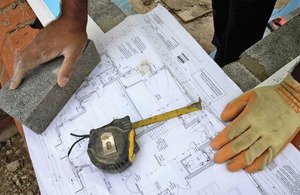 Housing Minister Mark Prisk today (28 March, 2013) announced a comprehensive range of measures designed to help people aspiring to build their own homes to get their projects off the ground.
On a visit to a self-build cohousing project in Leeds, the minister said he will be relaxing the rules for support funding under the Community Right to Build, to help even more community groups to bring forward and develop their projects.
Currently, only those planning to use the new powers under the Community Right to Build have access to a dedicated fund, to build up their development proposals and submit a Community Right to Build Order.
But to ensure anyone has access to this financial support regardless of the route they take for planning permission, Mr Prisk said the scheme rules will be expanded to include self-builders – giving them access to £14 million funding over the next 2 years to get their projects off the ground.
This is on top of the £30 million Custom Build Fund, over half of which has already been earmarked to support 15 different projects across England.
Supporting the growth of the self-build market
Mr Prisk was joined by industry champion Kevin McCloud as he visited the Low Impact Living Affordable Community (LILAC) project in Leeds, which offers aspiring self-builders the chance to build their own homes to high environmental standards.
The project is a cohousing scheme comprising 8 houses, 12 flats and a shared common house, on a former school site and is the UK's first Mutual Home Ownership Society.
And to support more of these in future, the minister confirmed that Locality will work closely with the National Self Build Association, the UK Cohousing Network, the National Community Land Trust Network, Self-help Housing and the Confederation of Co-operative Housing to encourage more local projects like LILAC to come forward for support.
Visiting the site, Mr Prisk said this scheme was an excellent example for others to follow, as evidence grows of increasing interest in the self-build market. A recent industry survey conducted for the National Self Build Association by MORI found that that 1 in 8 people are expected to research undertaking a self-build project within the next 12 months and around 1 in 50 expect to buy a building plot, obtain planning consent or start construction work on their self-build home during the coming year.
Yet despite this, Britain lags behind the rest of the world – and so the government has pledged to support the industry's aim to double in size over coming years.
Mark Prisk said:
"As the LILAC project in Leeds clearly demonstrates, self-builders are often at the forefront of innovative housing design and environmental building techniques. And with interest in this industry growing, I'm keen to ensure it goes from strength to strength.
"That's why I'm going to relax the rules on our £14 million Community Right to Build Fund, so even more aspiring self-builders can get the support they need to get their projects off the ground.
"This, on top of organisations across the self-build industry working even closer together to provide support and advice, means we can ensure anyone wanting to build their own should have the opportunity to do so."
Self-build industry champion Kevin McCloud said:
"This project shows the power of a community. The people involved in this project haven't just built affordable green homes for themselves; they've created a fantastically strong community that will inspire others.
"I'm delighted that the government has agreed to support other groups keen to get similar projects off the ground. Often, in the early days, these groups need a small grant or professional help to get their schemes ready to start on site. Access to this fund will help more community groups deliver innovative projects like this."
Dr Paul Chatterton from the University of Leeds' School of Geography, a co-founder and Secretary of Lilac, said:
"This has been an amazing 6 year journey for a group of ordinary people to dream about and actually build our own affordable and low impact cohousing neighbourhood. We are now excited to share our learning and work with other groups around the country to do the same. We are delighted that the government is committed to supporting more community-led, self-build housing."
Jo Gooding UK Cohousing Network Coordinator said:
"There is a groundswell of cohousing projects in the UK and, like LILAC, many groups report how critical it is to access quality support in the early stages of developing a project. The UK Cohousing Network welcomes the announcement on the extension of seedcorn funding to community led development and with community led partners we will work with groups to help more people build their dreams".
Catherine Harrington National Coordinator at the National Community Land Trust Network said:
"We welcome the government's announcement for £14 million seedcorn funding for communities. There are already 150 communities setting up Community Land Trusts and delivering permanently affordable homes across England, with on average one new community land trust forming every week.
"With such vital seedcorn funding we could see thousands of active citizens building more homes and taking control of their housing choices and the future of their communities. This is a significant step towards community-led housing becoming a real, meaningful alternative for those priced out of the housing market."
Further information
Currently, community groups in England (outside London) can apply for funding to help them to formally establish themselves, prepare their development proposals and submit a Community Right to Build Order under the Localism Act 2011. The announcement today will enable more groups wishing to bring forward community led development to apply, even if they do not plan to use the Community Right to Build. The funding is managed by the Homes and Communities Agency, and revised guidance for prospective bidders will be made available shortly. About £14 million is available until the end of March 2015. Separate funding arrangements are available for London, and are administered by the Greater London Authority.
Details of the Custom Build Homes fund can be found on the Homes and Communities Agency's website. The £30 million fund is open to applications until 2015. Funding is available to cover the cost of building, land acquisition or other costs associated with a proposed development of 5 or more custom build homes with planning permission.
The Low Impact Living Affordable Community (LILAC) is a pioneering project located in Bramley, west Leeds. The development comprises a community of 8 houses, 12 flats and a shared common house, on a former school site built to high ecological standards using cohousing design principles. The site is now nearing completion with final occupations expected in April 2013.
Organisations behind the LILAC project include:
Details of the recent MORI poll survey is available on the National Self Build Association's website.
Laying the foundations: a housing strategy for England sets out the government's plans to support social mobility and get the housing market - and in particular new house building - moving again, including a Custom Build Homes programme to support and encourage more individuals and communities to build their own homes.
Published 28 March 2013