Press release
Fund fuels private sector investment boosting local economies and jobs
Government public funds have been used to attract triple the amount of private sector investment in local economies.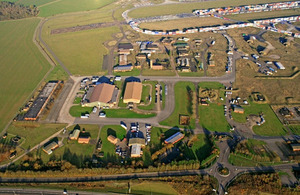 Latest figures show how targeted government public funds have been used to attract triple the amount of private sector investment, Local Growth Minister Kris Hopkins announced today (13 November 2013) as he praised the role of local leaders in turning around local economies.
The minister used the latest figures from the government's Growing Places Fund, which reveal that £650 million of government funding has secured a further £2.6 billion of extra investment with £1.8 billion from private sector partners, to show the strides local economies are now making.
That investment is funding 305 local projects across the country which the local enterprise partnerships believe will create up to 77,000 new homes, 5.3 million square metres of retail, industrial and office floor space, 217,000 jobs and 5,300 businesses.
The funding is being strategically targeted at projects that are transforming previously idle areas into prime economic sites bringing new businesses and jobs to local economies, as part of the government's commitment to ensuring that Britain continues to attract the investment and companies that will keep it competitive on a world stage.
The government has transformed the landscape of economic development by creating 39 local enterprise partnerships based on genuine economic areas. Local business and council leaders now have the freedom and resources to turn back the tide of bureaucratic centralisation with new tools and levers to grow economies.
Local Growth Minister Kris Hopkins said:
I believe that local economies should be led locally, with a focus on bringing private sector investment right across the country. That's why we gave local enterprise partnerships not just the money but the powers to end their dependency on Whitehall and drive their own economies.

I am pleased to see them using this funding with energy and imagination to support businesses, create jobs, and make all regions of Britain a great place to do business.
David Frost, Chairman of the Local Enterprise Partnership Network said:
The Growing Places Fund has been instrumental in unlocking key investment sites across England, ensuring that much needed local growth is brought forward.

This unique nature of the revolving fund has enabled local enterprise partnerships to focus on key local projects.
Several projects have already been completed, with many more in the pipeline:
Cheshire & Warrington Local Enterprise Partnership is supporting a £10.6 million project to build access road and infrastructure to open up a key area for development which is expected to create 97,800 square metres of industrial floorspace and 1,800 jobs.
Lancashire Local Enterprise Partnership is supporting the £9.25 million redevelopment of Teanlowe Shopping Centre which expects to deliver 3,900 square metres of industrial/retail floorspace.
Coventry & Warwickshire Local Enterprise Partnership is helping fund the Expert Tooling and Automation Project that will enable the business to develop new advanced manufacturing technologies to access new markets in the automotive and aerospace sectors. It will lead to the creation of 21 new jobs and the safeguarding of 10 existing jobs.
Greater Cambridgeshire and Greater Peterborough Local Enterprise Partnership allocated a £3 million loan to the Huntingdon Link Road project to open up 3,000 square metres of industrial/retail floorspace and 100 housing units.
Local enterprise partnerships are also playing a key role as the architects of growth and jobs through their 24 enterprise zones. To date the zones have attracted 180 businesses, secured half a billion pounds of private sector investment and created nearly 4,000 jobs. Earlier this week the government announced an extra £100 million that will enable enterprise zones to build on this early success, complete key infrastructure projects and continue creating the conditions for ongoing, long term investment.
Further information
The progress report reveals that:
over half of all projects are already in construction
over 100 projects are getting funded with private sector money first
two thirds of the projects would not have been able to secure investment on their own
development will include 77,000 homes via 88 residential developments
The Growing Places Fund is just one of a number of growth programmes being managed by local enterprise partnerships. These include enterprise zones, city deals and over £450 million of Regional Growth Fund being allocated by local enterprise partnerships in local programmes
In the Spending Review in June, the Chancellor announced that from 2015 to 2016 to 2020 to 2021 local enterprise partnerships could access the £2 billion per year Local Growth Fund alongside the £5 billion European Funding from 2014 to 2020. Local enterprise partnerships are key drivers of local businesses through their role in enterprise zones.
The zones are at the centre of the government's plans to deliver sustainable economic growth by creating new clusters where new businesses can thrive. Their benefits include well connected transport networks and super-fast broadband, strong fiscal support from government through business rate relief, enhanced capital allowances, simplified planning and government support to attract inward investment. They were launched in April 2012. Read more information on enterprise zones
The £730 million Growing Places Fund is supporting key infrastructure projects designed to unlock wider economic growth, create jobs and build houses in England. The fund is an important boost for local economies and provides a major opportunity for local enterprise partnerships and local authorities to identify and prioritise the infrastructure they need for growth.
82% of the Growing Places Fund has been allocated as loans, ensuring the funding will be recycled into further growth projects.
Published 13 November 2013