World news story
Full Time Vacancy: HUMAN RIGHTS & PROJECTS OFFICER
The UK government supports human rights, democracy and good governance around the world to increase Britain's security, to protect British citizens overseas, and to secure political freedom globally. A principle objective of the British Embassy Guatemala City is to help achieve this, working with Guatemala and Honduras on improved implementation of human rights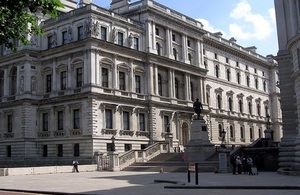 Functions of the position:
This full time position (40hrs per week) will support the Embassy's efforts to get a better understanding of some of the human rights challenges that face both Guatemala and Honduras and that are of importance to the UK, and how the UK can help tackle them. In Guatemala and Honduras there'll be a focus on violent culture, protection of individual freedoms (of speech, access to information, private property), women's and children's rights, and the protection of human rights defenders. There'll be a regional dimension to the position, working with other British Embassies in Central America on cross-cutting issues such as social conflict. Working with international partners, including the European Commission's offices in Guatemala City and Tegucigalpa and their Member States' Embassies, will be important. There will be opportunities to travel to Honduras. And there'll be responsibility for administering both bilateral and regional UK funding of projects that support our human rights, security and justice, and trade objectives in Guatemala and Honduras.
Job description (there will be roughly a 75%:25% split between the focus on Guatemala and Honduras):
Develop and implement creative action plans to promote UK priorities on human rights in Guatemala and Honduras (including on some specific human rights cases) - 20%
Regular analytical analysis and reporting on key human rights developments in Guatemala and Honduras (in line with UK and EU priorities), including through daily monitoring of Guatemala/Honduras media, and responding to enquiries from UK parliamentarians and members of the public - 50%
Attend/organise Human Rights meetings to build up knowledge on ongoing/new cases, including Honduras; liaising with international organisations, UK and international NGOs and civil society - 20%
Lead the project management of the Embassy's Political Section (both local and regional funding); helping target UK donor support on human rights - 10%
Required qualifications:
University graduate and work experience in the human rights sector
Broad knowledge of Guatemala's human rights, the issues, challenges, and the main actors. Some Honduras experience would be an advantage.
The candidate should have self-confidence, professional competence, maturity and ability to deal with a broad range of mid-level governmental officials.
A capacity to work either in groups or individually with limited supervision, and an ability to work under pressure and to reach tight deadlines.
Fluent Spanish and English are required for oral and written technical reports and presentations Employment of the successful applicant will be conditional on satisfactory submission of a local criminal records check, and passing an FCO security assessment. The successful candidate is expected to commence employment during October 2013.
To Apply:
Please complete and submit the Job Application form in English to eventos@fco.gov.uk by no later than 1230 on Monday 7 October 2013. We will only process applications that are submitted in English on the Application Form provided, via email referring to this position. Applications sent by any other means or email address will not be considered.
Only those candidates who are successful in the initial sift of applications will be contacted and invited to an interview during the week beginning 15 October 2013. The interview will include a timed written test in English and Spanish.
The British Embassy is an equal opportunity employer and makes all employment decisions based on each individual's merits without regard to race, gender, religion, national origin, citizenship, disability, age, sexual orientation, political affiliation or any other criterion protected by law.
Some benefits of working for us:
The opportunity to work in a diverse and stimulating environment, and contribute to wider Embassy activities
Local benefits including Bono 14, Aguinaldo, leave period.
Continuous training available
Private medical scheme for employee, spouse and dependants under the age of 18
A mix of Guatemalan and British Public Holidays totalling 14 days per year
Follow us on: Facebook (British Embassy, Guatemala City) and Twitter (@ukinguatemala)
Published 25 September 2013