Press release
Full-time government trade union representatives: number falls to single figures
Cabinet Office Minister Francis Maude announced there are now fewer than 10 full-time trade union representatives in government departments.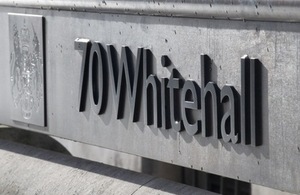 The latest quarterly figures, for 1 April to 30 June 2014, show that there were 13 full-time union representatives, compared to 200 in November 2011. Since these statistics were collected, the decline has continued, and today the number of full-time representatives is in single figures.
Quarter 2 (April to June) 2014 statistics show that:
the average monthly percentage of paybill that departments are spending on trade union activity has fallen by 2-thirds (from 0.26% to 0.07%) since November 2011
the rolling year to date (1 July 2013 to 30 June 2014) percentage of the paybill that departments are spending on trade union activity is 0.08%
the overall number of trade union representatives has fallen by 371 since quarter 1 (January to March) 2014
Before 2010 there was no central scrutiny of facility time. In October 2012, the government introduced measures to ensure that facility time arrangements in the civil service reflect modern working practices. They included:
more rigorous, quarterly, monitoring and reporting by departments
a cap on trade union representatives spending more than 50% of their paid time on trade union work without ministerial sign-off
a ban on any full-time representatives being promoted while working full-time on union work
a default position that union activities will not attract paid time off
a guide figure for monitoring the spend on facility time (0.1% of the paybill for 2013)
Cabinet Office Minister Francis Maude said:
Before the 2010 general election, too many civil servants were working exclusively on union duties – some were even winning promotions – and there were no effective controls in place. We now monitor facility time and limit the time civil servants can spend on trade union work. We've also slashed the number of full-time taxpayer-funded union officials by over 90% since the start of this government – an estimated saving to taxpayers of over £6 million.
Published 29 September 2014