Press release
Full speed ahead as government appoints new Director General to oversee HS2
David Prout to be Director General taking charge of the delivery of HS2.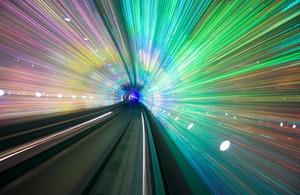 The government's commitment to delivering a new national high speed rail network has been underlined by the appointment of a new Director General to oversee the crucial project.
David Prout, currently a Director General at the Department of Communities and Local Government (DCLG), will join the Department for Transport (DfT) in the New Year in a newly-created post taking charge of the delivery of HS2.
HS2 is a national high speed rail network linking London, Birmingham, Manchester, Sheffield, Leeds, the East Midlands, with each other and cities beyond it, to drive regional growth, improve connectivity and create extra space and capacity on our railways and roads.
In his current role, David Prout has been at DCLG since 2009, with responsibility for localism, and additional responsibility as deputy for Sir Bob Kerslake given the latter's role as Head of the Civil Service.
Philip Rutnam, DfT Permanent Secretary, said:
HS2 is a hugely important programme for the future of the UK. I am very pleased that David Prout will be taking charge at such an exciting time. He will be leading a team which is already hard at work delivering this project, as well as liaising closely with HS2 Ltd, as we work together to introduce the legislation into Parliament on time next year that will make HS2 a reality.
David Prout said:
Making HS2 a reality is absolutely crucial to our country's future prosperity and I am very pleased to have been asked to take leadership of this much-needed programme at this time. I look forward to helping to take the project through Parliament and continuing to demonstrate the very real need for more capacity for people and freight on our railways, which will help make Britain a more prosperous and less congested country.
Notes to editors
Prior to his current role at DCLG, David was Executive Director for Planning and Borough Development at the Royal Borough of Kensington and Chelsea. Before that he was Director of Local Government Policy in the Department for Communities and Local Government.
David has held a range of high profile civil service positions including Principal Private Secretary to the Deputy Prime Minister in the Department for the Environment, Transport and the Regions, Cabinet Office and Office of the Deputy Prime Minister.
From 1995 to 1998 David was environment attaché at the UK Permanent Representation to the European Union in Brussels. Prior to that he held a variety of posts in the Department of the Environment. He also worked in the planning department of Westminster City Council from 1990 to 1993 and for the Victorian Society from 1991 to 1993.
HS2 and major projects media enquiries
Media enquiries 020 7944 3021
Out of hours media enquiries 020 7944 4292
Switchboard 0300 330 3000
Published 4 December 2012