From poppies to prisons: Minister Alistair Burt discusses counter narcotics policy with Afghan MPs
Foreign Office Minister Alistair Burt met with Mawlawi Shazada Shahed, Deputy Chair of the National Assembly of Afghanistan's Counter Narcotics Committee.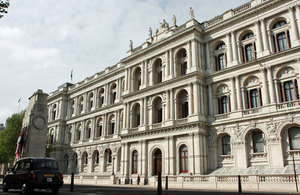 Committee members Shah Abdul Ahad Afzali, a former Governor of Ghor province, Pir Bakhsh Gardiwal, and Habiba Danish, one of Afghanistan's 69 female MPs, also took part in the meeting with the Minister. The committee members were in London between 13 and 16 June as part of a UK-sponsored fact-finding visit to learn more about all aspects of UK drugs policy.
In the meeting with Alistair Burt the group focused on the importance of tackling narcotics to secure a peaceful and stable Afghanistan and the role that the Committee is playing to achieve this.
During their visit to the UK, the Committee met James Brokenshire, Home Office Minister for Crime and Security, senior officials from the Department of Health and the Foreign Office, and members of the Home Affairs and Health Select Committees. They also visited a detention facility, a drug treatment facility and Drugscope, the UK's leading independent centre of expertise on drugs and drug use.
The UK remains a major supporter of counter narcotics efforts in Afghanistan, and, in particular, delivery of the Afghan Government's National Drug Control Strategy. The UK is helping build up the capability of the Afghan government to produce robust policy on narcotics and is also supporting the growth of alternative livelihoods such as wheat farming.
By helping the country develop its police force, legal system and prisons sector we are building on the Afghan government's ability to tackle the drugs trade.
The UNODC's 2010 Annual Opium Survey for Afghanistan showed opium cultivation figures have continued to fall since 2007. The Afghan-led Drug Control Strategy is showing signs of success, although eliminating narcotics in Afghanistan remains a long term challenge.
Published 16 June 2011