Friends of Yemen agree package of support with Government of Yemen
Ministers of the Friends of Yemen met in New York on the 24th of September to build on international coordination since January 2010.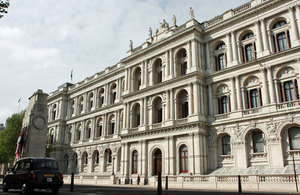 The Friends assessed progress made since the January meeting in London, agreed a course of action for future support to Yemeni reform and set a date for the next meeting in Riyadh. The Friends welcomed Yemeni commitment to the implementation of the recently agreed International Monetary Fund programme, to a lasting peace settlement in Sa'dah, and to an inclusive Yemeni-owned national dialogue process.
UK Foreign Secretary, William Hague, co-chaired the meeting with Yemeni Foreign Minister Dr Abu Bakr Al Qirbi, and Saudi Arabian Deputy Foreign Minister HRH Prince Turki. Foreign Office Minister Alistair Burt MP and Minister of State for International Development, Alan Duncan MP were also at the meeting.
The Friends of Yemen renewed their commitment to working with the Government and the people of Yemen in order to tackle the significant challenges they face. The Friends agreed to meet again in Riyadh in early 2011 to assess progress and launch the Yemeni Development Plan for 2011 - 2015.
Following the meeting, co-chair William Hague, UK Foreign Secretary said:
"Today's meeting showed the breadth and depth of international commitment to help address the challenges Yemen faces. Today the Friends of Yemen agreed targeted measures which demonstrate that we support the Government of Yemen and its people in pursuit of stability, security and sustainable development. I strongly welcome the offer of the Kingdom of Saudi Arabia to host another meeting to review progress in Riyadh in early 2011."
Published 24 September 2010