Friends of Syria meeting concludes
The second meeting of the Friends of Syria has taken place today. Foreign Secretary William Hague attended the gathering of the international community in Istanbul.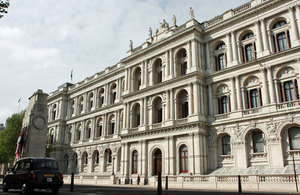 The Friends of Syria meeting is the latest move by the international community to address the situation in Syria. During his intervention at the meeting, the Foreign Secretary called for an end to all violence in Syria, the withdrawal of Syrian forces to their barracks, the release of all political prisoners and a political transition led by Syrians themselves to a plural, democratic government with free and fair elections.
> Full Chairman's Conclusions from Friends of Syria meeting
> Full text of the Foreign Secretary's intervention
> Foreign Secretary discusses events in Syria in interview with Andrew Marr
Key aims for the meeting were to:
Exert further pressure on the Assad regime through sanctions implementation and increase work towards accountability for human rights violations;

Boost support for Kofi Annan's diplomatic mission through endorsement of a ceasefire in line with Annan's 6-point plan, and call for urgent UN Security Council action to support this process;

Increase support for the opposition. The UK will provide a further half a million pounds to Syria's political opposition. This includes an agreement in principle for practical non-lethal support to them inside Syria;
Further political and economic work on transition. The UK is determined to stand alongside the Syrian people and is helping coordinate international assistance for economic recovery and development, while also providing relevant support and expertise to opposition and civil society groups;
Call for a safe and unrestricted access for humanitarian agencies in all Syria so that they can determine where the need is greatest and get help to those who need it most. The UK was one of the first to respond to the growing humanitarian needs of the Syrian people. We have now provided £4.5m in funding for the global response, delivering life-saving medical care, food, shelter and clean water for tens of thousands of people. We remain in close contact with humanitarian agencies as to what further help may be needed Today's meeting follows the first meeting in Tunis, when more than 80 countries affirmed support for the Arab League transition plan of 22 January and welcomed Kofi Annan's appointment as the United Nations / Arab League Special Envoy (Chairman's conclusions).
Published 1 April 2012