News story
Friends of Syria meet in Jordan to progress peace in Syria
Foreign Secretary, William Hague, is attending today's core group meeting of the Friends of Syria in Amman, Jordan.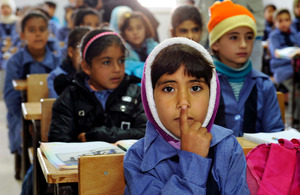 Hosted by Jordanian Foreign Minister Nasser Judah, the meeting is also being attended by US Secretary of State John Kerry, French Foreign Minister Lauren Fabius, and Turkish Foreign Minister Ahmet Davutoğlu.
The Foreign Ministers will discuss the US-Russian led initiative to bring together the Syrian regime and Syrian opposition in Geneva to help bring about an end to the crisis. Updating the Parliament earlier this week, the Foreign Secretary said:
On 8th May in Moscow Secretary Kerry and Foreign Minister Lavrov agreed the basis for a new international conference bringing together representatives of the regime and the opposition.

The Prime Minister visited Russia on 10th May for talks with President Putin to cement understanding about the purpose of the conference. He held further talks with President Obama in Washington on 13th May, and spoke again to President Putin last Friday.

In our view the conference, which should be held as soon as possible, should be focussed on agreeing a transitional governing body, with full executive powers and formed by mutual consent, building on the agreement we reached at Geneva last year.

We are urging the regime and the opposition to attend the conference and to take full advantage of the opportunity to negotiate. In the end there will have to be a political and diplomatically-supported solution, if there is to be any solution at all. There is no purely military victory available to either side without even greater loss of life, the growth of international terrorism and grave threats to neighbouring countries.

All our efforts are directed at ensuring that the coming conference in Geneva has the greatest possible chance of success.
Further information
Read the Foreign Secretary's statement in full
For more detail on the UK's humanitarian work to support Syria
Visit the UK and Syria website pages
Follow the Foreign Secretary on twitter @WilliamJHague
Follow the Foreign Office on twitter @foreignoffice
Follow the Foreign Office on facebook and Google+
Subscribe to the announcements feed or email alerts to get our latest news and announcements
Published 22 May 2013