Freud: Universal Credit switch will be simple for most –  but we must prepare early
New research shows the majority of claimants are ready to manage their own money.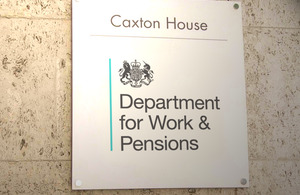 New research shows the majority of claimants are ready to manage their own money, including paying their rent direct to landlords, ahead of Universal Credit, Lord Freud the Minister for Welfare Reform announced today.
The early findings from the Department for Work and Pensions Direct Payment Demonstration Projects - following six projects set up across the country to determine what support people living in social housing need to prepare for the start of Universal Credit - reveal 54 per cent of tenants surveyed said they were confident receiving their Housing Benefit payment directly to their own bank account.
This shows projects are starting with a good foundation but more work is needed to get tenants ready.
The projects are showing the steps social landlords need to take ahead of the introduction of Universal Credit, and the safeguards that need to be in place.
Minister for Welfare Reform Lord Freud said:
These findings show most people on low incomes manage their money well and for most tenants the switch to direct payments under Universal Credit will be straightforward.

Social landlords are also finding that they know less about their tenants than they thought and they are investigating how to build more productive, rounded relationships.

This work will ensure that the right level of support is in place for those tenants who need it.
The Demonstration Projects are proving to be useful and informative. So far the key lessons for social housing providers include:
Social landlords need to contact and work with tenants early - and they need to have a greater understanding of their tenants and their financial circumstances and ability to budget.
Tenants prefer a range of payment options to take control of the budgets including standing orders, payment cards or cash, as well as direct debits.
Most tenants prioritise the payment of their rent, fully understanding that non-payment would result in eviction. But some could imagine a situation when their housing benefit could be spent to cover unexpected expenses.
Budgeting support needs to recognise that people on low incomes often budget on a fortnightly or weekly basis.
Accounts that allow customers to separate several 'pots' of money are likely to be helpful.
Close working between local authority housing benefit departments and landlords has been crucial for effective implementation.
The Projects are also helping to identify tenants at risk who may not be suitable for direct payments at the start. In some cases these claimants could be made an exception to the Universal Credit monthly payment rule or direct payment rule for a period of time, whilst they learn to manage their finances better.
The DWP is now working with councils and social housing landlords to ensure support can be provided to claimants as they move over to Universal Credit and in the long-term.
Notes to editors:
The Direct Payment Demonstration Projects are taking place in six local authority areas in Great Britain: Southwark Council and Family Mosaic, London
Oxford City Council and Oxford Citizens, (part of the) Greensquare Group, Southern England
Shropshire Unitary County Council and Bromford Group, Sanctuary Housing and The Wrekin Housing Trust, West Midlands
Wakefield Metropolitan Borough Council and Wakefield and District Housing, Northern England
Torfaen Borough County Council and Bron Afon Community Housing and Charter Housing, Wales
Dunedin Canmore Housing Association in Edinburgh, working in association with The City of Edinburgh Council
The demonstration projects, which will take place from June 2012 until June 2013, will test how claimants can manage housing benefit monthly payments ahead of the introduction of Universal Credit from October 2013.
The projects will also look at the appropriate level of safeguards needed to help secure landlord income streams if tenants fall behind on their rent.
The findings from the Early Learning Report are available to local authorities and social housing providers via the Learning Network.
Full report from the baseline survey of tenants will be published before Christmas. This report is based on a face-to-face survey of 1639 tenants who were selected for participation in Demonstration Projects in five English and Welsh Areas. 
This survey of social sector tenants before they took part in the demonstration projects found:
Nine out of ten respondents reported having a bank or building society; 21% opened these after hearing about the Demonstration Projects.
Cash is often the preferred method for bill payment even for those with bank accounts.
54% of respondents thought they would be able to manage direct payment of housing benefit
About a quarter (24%) reported that they would need support if Housing Benefit were to be paid directly to them
These findings will be used as a baseline to see what interventions are the most successful.
As part of the project evaluation, CRESR will begin conducting the rent account analysis early next year.
Data from Edinburgh will be incorporated in the final report that will be published next year.  
Universal Credit will be rolled out from October 2013 with approximately 12 to 13 million tax credit and benefit claims transformed into eight million Universal Credit payments.
Universal Credit will be paid monthly allowing a smoother transition from benefits to work and will be paid as a single household payment.
Universal Credit will replace income-based JSA, income-related ESA, Income Support (including SMI), Working Tax Credits, Child Tax Credits and Housing Benefit
Published 30 October 2012