Freshers warned to be smart and avoid Modafinil
MHRA highlight the pitfalls of buying medicines online to students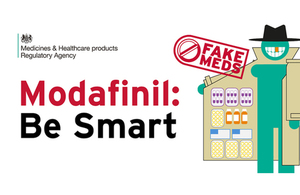 Freshers and university students are being warned of the possible dangers to their health from taking powerful prescription medicines to get higher marks as a new university year begins.
The announcement comes as concerning Medicines and Healthcare products Regulatory Agency (MHRA) research showed 14% of those sampled were likely to buy so-called 'smart drugs' within the next year.
The misuse of prescription only medicines such as Modafinil and Ritalin remains prevalent despite repeated warnings against self-medication.
Possible side effects of using 'cognitive enhancers' include risk of dependence, cardiovascular problems and psychosis.
It is a criminal offence to supply prescription only medicines without a valid prescription.
MHRA has recently launched the FakeMeds campaign aimed at young adults and highlighting the pitfalls of buying medicines online.
So far this year nearly 5,000 websites selling fake or unlicensed medicines have been shut down as the MHRA strives to protect people's health.
During Operation Pangea, an international week of action tackling the online sale of counterfeit and illicit medicines and medical devices, we seized more than 31000 doses of narcolepsy medication.
MHRA Senior Policy Manager Lynda Scammell said: "You may be offered 'smart drugs' or 'cognitive enhancers' at university – some of them may be potent medicines which should only be prescribed by a doctor.
"Modafinil is licensed for specific medical conditions – not for use as a 'boost' during exams. Don't put your health at risk by self-medication - it could have serious side effects.
"It's a criminal offence to supply prescription only medicines without a valid prescription - websites offering them are acting illegally.
"Be smart – don't put your health at risk by buying medicines online and don't give your student loan to a criminal."
Visit www.gov.uk/fakemeds for tips on buying medicines safely online and how to avoid unscrupulous sites.
Ends
Background
Notes to Editor
The public are advised that they should take prescription-only medicines after an appropriate consultation with their GP. Only healthcare professionals can take into account risks and benefits associated with every medicine
MHRA Falsified Meds research from 2016
To report a counterfeit medicine or device contact MHRA's dedicated 24-hour hotline on 020 3080 6701, or email counterfeit@mhra.gsi.gov.uk, or write to: Counterfeits, The Intelligence Unit, MHRA, 151 Buckingham Palace Road, Victoria, London, SW1W 9SZ.
To report a suspected side effect from an unlicensed medicine visit the Yellow Card Scheme website
FakeMeds campaign. Follow #FakeMeds on Twitter
MHRA is responsible for regulating all medicines and medical devices in the UK. All our work is underpinned by robust and fact-based judgments to ensure that the benefits justify any risks. MHRA is a centre of the Medicines and Healthcare products Regulatory Agency which also includes the National Institute for Biological Standards and Control (NIBSC) and the Clinical Practice Research Datalink (CPRD). The Agency is an executive agency of the Department of Health. www.mhra.gov.uk
Media enquiries
News centre
MHRA
10 South Colonnade
London
E14 4PU
Email newscentre@mhra.gov.uk
During office hours: 020 3080 7651 (08:30 - 17:00)
Out of office hours: 07770 446 189 (17:00 - 08:30)
Office hours are Monday to Friday, 8:30am to 5pm. For real-time updates including the latest press releases and news statements, see our Twitter channel at https://www.twitter.com/mhragovuk
Published 26 September 2016