Freedom of Expression on the Internet Expert Group meets
Minister of State Jeremy Browne today chaired the second meeting of the Foreign Office's Expert Group on freedom of expression on the internet.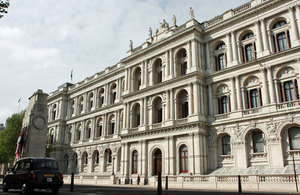 Speaking after the meeting, the Minister said:
"The internet is an innovative and vibrant space, where individuals have the right to express themselves freely and without fear. The UK wants cyberspace to continue to deliver economic and social benefits consistent with our values. This meeting with the expert group on freedom of expression on the internet provided an excellent opportunity to discuss how we can work for a safer, more secure and resilient cyberspace."
The UK is hosting the London Conference on Cyberspace on 1-2 November, which will aim to develop a better collective understanding of how to protect and preserve the tremendous opportunities that the development of cyberspace offers us all. One of the seven principles set out by Foreign Secretary William Hague in his Munich speech on cyberspace is, "the need for governments to act proportionately in cyberspace and in accordance with national and international law." Recognising the difficult balance between freedom of expression and security will be helpful in terms of engaging other governments on the issue.
The Foreign Secretary announced the formation of the Advisory Group on Human Rights in his 15 September speech entitled "Britain's Values in a networked world". A number of sub groups have been set up for particular human rights. The Freedom of Expression on the Internet Expert Group is focusing specifically on internet freedom issues, to ensure the FCO has the best possible information about recent developments and can benefit from outside advice on the conduct of our policy.
Published 5 October 2011