Free school meals continue but costly expansion plans shelved
Information on the government's plans for free school meals in the year 2010 to 2011.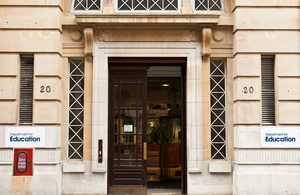 Regarding stories concerning free school meals, a Department for Education spokesperson said:
As the Education Secretary made clear in his letter to Ed Balls dated 7 June 2010, we are not stopping free school meals. All pupils who are already eligible will continue to receive them. We are, however, ending the expansion of eligibility this year. This decision was made because the cost of extending eligibility was significantly higher than anticipated by the previous government. Money saved this year will be invested in projects to boost the attainment of children from disadvantaged families.
Further information
Continuing the free school meals pilots which started in 2009 and their evaluation:
Newham and Durham are trialling free school lunches to all primary school children. Wolverhampton is testing extending the free school meals eligibility rules to include pupils whose parents receive Working Tax Credit and have an annual income of up to £16,190 at primary and secondary level. The pilots started in the autumn term 2009 and are set to run for 2 years to September 2011. The Department of Health and the Department for Education provide half the costs, matched by local authorities and primary care trusts.
Maintained nursery and key stage 1 pupils:
The Department for Education will not be extending free school meals to maintained nursery and key stage 1 pupils whose parents are on working tax credit, with household incomes up to £16,190. This was part of the pre-budget report in December 2009. The pre-budget report envisaged a further roll out to older primary pupils in September 2011. Not doing this will save £125 million in the year 2010 to 2011.
Five local pilots of universal free school meals:
Not proceeding with central funding to five local pilots of universal free school meals for primary pupils announced in April. This would have co-funded universal primary pilots in Islington, Bradford and Nottingham and targeted pilots in Cumbria and Medway. Pilots were to start in September 2010 for 1 academic year. Not doing this will save £35 million in the year 2010 to 2011.
DfE enquiries
Central newsdesk - for journalists 020 7783 8300
General enquiries - for members of the public 0370 000 2288
Published 9 June 2010