News story
Free electric vehicle parking space for thousands in Milton Keynes
Transport Minister visits Milton Keynes to launch 15,000 free parking spaces for electric vehicles as part of the town's Go Ultra Low City scheme.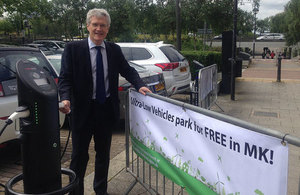 Andrew Jones was in Milton Keynes today (7 July 2016) to see how £9 million of government funding for electric cars is delivering a major boost to the city's economy and is paving the way for thousands of free electric car parking spaces. Electric vehicle drivers in Milton Keynes can now park for free in 15,000 commuter and charging spaces with a new 'green parking permit'. The scheme is the first in a series of nationwide initiatives designed to increase the uptake of electric vehicles.
In January, Milton Keynes was awarded Go Ultra Low City status alongside Bristol, London and Nottingham, securing multi-million pound investment from government. Dundee, Newcastle, York and Oxford have also received funding for specific Go Ultra Low projects. The cities and regions each received a share of £40 million funding by proposing exciting and innovative ideas that will encourage drivers to choose an electric car.
Transport Minister Andrew Jones said:
It is great to see the first part of Milton Keynes' Go Ultra Low City plan become a reality. Thanks to the £9 million of funding we have provided, thousands of local residents will now be able to park their electric cars for free. This grant will also help to create an 'electric vehicle experience centre' in the city and open up bus lanes to electric car drivers.

We are investing £600 million in cleaner, greener vehicles by 2020 to improve air quality, create jobs and achieve our goal of every car and van in the UK being zero emission by 2050.
The council received £9 million funding to further its innovative work developing modern vehicles to tackle harmful emissions and reduce its carbon footprint.
Roads media enquiries
Media enquiries 020 7944 3021
Out of hours media enquiries 020 7944 4292
Switchboard 0300 330 3000
Published 7 July 2016