Free childcare for disadvantaged 2-year-olds to be guaranteed in law
Children's Minister Sarah Teather outlines the first steps in the government's reform of early years education.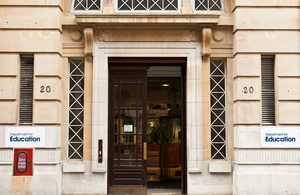 Children's Minister Sarah Teather today outlined the first steps in the government's reform of early education. The new approach will improve the life chances of disadvantaged children by freeing up children's centres so they focus their services on families that will benefit the most.
Speaking ahead of the Daycare Trust conference in London, Sarah Teather said:
Early years support for all families is important but our reform must benefit the most disadvantaged families first and foremost. We need to end cycles of deprivation by reaching children from as young as two, therefore giving them the best chance to learn and develop. These reforms are vital because we know that high-quality early education can have a dramatic impact on a child's life chances in the longer term.
Local authorities and professionals need the freedom to tailor support to suit local needs. There is no one-size-fits-all in early years. Every community, every parent, every child and every setting differs, and it is time for government to support a much more flexible approach to early years.
The government will be much less prescriptive about the services children's centres must provide in return for a commitment from providers to improve the quality of outcomes for the most disadvantaged children.
At the Daycare Trust conference, the minister confirmed plans to increase flexibility, improve access to high-quality provision and reduce bureaucracy in early education.
The reforms include
intending to legislate so that disadvantaged 2-year-olds receive 15-hours of free early education a week starting from 2013
removing the requirement to offer full day care for Sure Start children's centres in the most deprived areas, which is largely unused and taking resources away from the frontline
reducing bureaucracy for professionals in Sure Start children's centres in the most deprived areas by removing the requirement to hire someone with both qualified teacher and early years professional status.
By 2013, ministers plan to put into legislation the commitment for the most disadvantaged two-year-olds to receive 15 hours of free early education per week. Ministers will seek the views of the early years sector and voluntary groups, to define disadvantage to ensure the funding is targeted on those children who would benefit the most.
To give children's centres the flexibility to target resources and services at the most disadvantaged, ministers intend to remove the requirement for children's centres in the 30% most disadvantaged areas to provide 40-hours of full day care a week, which is not used in the majority of these centres. Due to low take-up, local authorities often have to subsidise provision out of budgets that should be used to provide other Sure Start services, including family support and work to reach out to vulnerable families in the local area.
This does not mean children's centres in disadvantaged areas will stop providing full day care. They should build their services around the free entitlement for 2-, 3- and 4-year-olds but local authorities should continue to tailor services to meet local demand.
Evidence clearly demonstrates the positive impact of high-quality staff on the outcomes of children. Ministers trust frontline professionals to use their local knowledge and professional judgement to decide how to use the available evidence to determine the appropriate level of graduate support across their early years settings. Removing the requirement for professionals in Sure Start children's centres in the most disadvantaged areas to have both qualified teacher and early years professional status will mean they have the flexibility to make better use of the resources available to them.
As part of the government's arm's-length body review and ongoing commitment to channel as much resource as possible directly to the frontline, Children's Minister Sarah Teather also announced the department is withdrawing investment from the Children's Workforce Development Council (CWDC). The Secretary of State for Education has written to the chair of CWDC to confirm this decision and explain that the CWDC will cease to be a non-departmental public body with its functions brought into the department.
In the letter, the Secretary of State praised the hard work and dedication of CWDC's staff and acknowledged its significant contribution in leading workforce reform and improving life chances for children and young people since it was established in 2005.
Michael Gove confirmed in his letter that the department's staff will work closely with CWDC on a detailed plan for the transfer of work, to ensure that current business continues to be delivered and essential business maintained. The department's officials will work with CWDC to continue to secure employers' engagement in workforce development.
Notes to editors
From this page you can download the letter Michael Gove sent to Sir Paul Ennals, Chair of the Children's Workforce Development Council (CWDC).
You can also download Children's Minister Tim Loughton's written ministerial statement about the funding decision.
DfE media enquiries
Central newsdesk - for journalists 020 7783 8300
Published 16 November 2010