Frederick Cayley Robinson exhibition opens today
A free exhibition of one of the early 20th century's most distinctive British painters opens at the National Gallery in London today.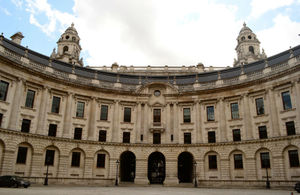 Frederick Cayley Robinson's masterpiece 'Acts of Mercy' will take centre stage in the first exhibition of his work for over 30 years. The four large-scale murals explore the strength of human spirit - through images of orphaned children and wounded First World War soldiers.
'Acts of Mercy' (1916-1920) was commissioned for the Middlesex Hospital and will be shown alongside other examples of Cayley Robinson paintings.
Frederick Cayley Robinson: Acts of Mercy runs from 14 July to 17 October.
Published 14 July 2010