World news story
Frank Baker: I remain firmly optimistic about Kuwait's future
British Ambassador to Kuwait said in an interview: Kuwait has 'a long history of political participation and a deeply rooted democratic ideal'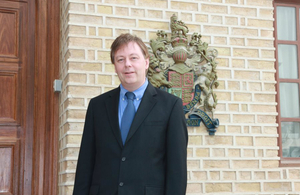 You have now been UK Ambassador in Kuwait for 3 years. What changes have you seen to the UK – Kuwait relationship during that time and how do you see Kuwait's future and the UK's role in it?
For the bilateral relationship, the last three years have been transformational. The series of visits and events we've held together, starting with the 50/20 celebrations, and culminating in the Amir's visit to London last year, have galvanised relations in a way that can only be positive for both our countries.
For all the doom-mongering we hear about Kuwait's future, both economically and politically, I remain firmly optimistic. Like any country, Kuwait does face challenges, but it has much in its favour – a long history of political participation and a deeply rooted democratic ideal; a new generation of engaged, highly educated and able Kuwaitis who can shape the future of their country; and the wealth to enable them to do so.
The Amir of Kuwait paid a state visit to the UK in November 2012. What were the main outcomes of this visit? What deals were signed as a result of the visit?
The Amir's visit was a magnificent occasion, which re-affirmed the closeness of the British and Kuwaiti ruling families, with all the protocol and ceremony you expect from a full state visit. But flowing from the natural and long-standing friendship between our two countries, we got some significant work done.
We set up a joint steering group to meet every six months and review aspects of the bilateral relationship right across the board; something that will show its value in pushing forward shared objectives over the coming months and years. We also signed an agreement on security cooperation aimed at helping Kuwait protect itself from terrorism and threats to its critical national infrastructure. On the commercial side, a major deal for a UK company, AMEC, to be the consultants on the new oil refinery was signed shortly after the visit. These three agreements are just a snapshot.
How important is Kuwait for UK Ministers?
Very. This has been clear from the number of Ministers across government who have visited since 2010. The current government came into power with revitalising relationships with historical allies in the Gulf one of its key objectives. Kuwait has played a central part in that, and the Amir's visit is but one of many examples of continuing high-level contacts between our two countries.
You said in one of your blogs that Kuwait has a trajectory 'that leads in the fullness of time to a state that combines modern political ideals with tradition, respect and an understanding of the past – a state, indeed, much like the UK'. What does Kuwait need to do politically and economically to complete this trajectory?
It's not for me to dictate to my Kuwaiti friends what their country needs to do. But it is my belief that Kuwait, like the UK, is a country with inherently reform-minded instincts. That reform may on occasion be slower than some would like, it may often be contested, but over the sweep of history it only goes in one direction. Kuwait's reform journey, like that of any country, is an evolution. At present I see some real positivity on the economic side, particularly in some of the legislation passed to support the growth of the private sector, which is crucial for the development of any country. The politics is challenging and in some ways more entrenched, but there too I am sure we will see progress, compromise and restraint.
There has been a lot of political turbulence in Kuwait recently. What does this mean for Kuwait's democracy?
The first point I would make is that political turbulence is an integral part of any democracy. Open disagreement, and impassioned exchanges of ideas are some of the key building blocks for any democratic society.
But, as I said previously, it is for Kuwaitis through dialogue, through politics, through protest and counter-protest, through the peaceful mechanisms in which individuals make their voices heard, to arrive a the compact that works for them. Democracy is not just about elections, it is about culture, mindset, education, and civil society. Across these areas I have seen in Kuwait some of the most vibrant politics I've ever seen anywhere in the world, some of the most engaged young people, and some of the best and the brightest reaching for ideas to change their world. This has to be encouraging for the future of Kuwait.
The UK Embassy recently helped to host a conference to discuss the balance between freedom of expression and security. Where do you think that balance lies for Kuwait?
The Crown Prosecution Service in the UK recently produced interim guidelines on exactly this topic. In the UK, the threshold for prosecuting offences related to freedom of expression online is high – they need to constitute, for example, sustained harassment or incitement to violence.
No two countries are the same. And the Conference we organised was aimed at recognising that there is a balance to be had between freedom of expression and issues around security, incitement, slander and libel, for example. In a country with one of the highest levels of Twitter use in the world, malicious rumour, gossip, and reputational assassination happen, and this is a real problem. One of the questions is whether this falls under criminal or civil law. In the UK slander and libel are civil offenses. But incitement is criminal. There are methods of prevention or easing this problem which do not rely on the law, through better education, journalist integrity or civil society activism, for example. All of which points to a simple answer to this question – it's not for me to say where the balance lies in Kuwait, but it is important to have a rational and logical debate about the issues, in which a multitude of views can be heard.
How do you respond to the charge that the UK is more interested in commercial relationships than human rights and political reform.
That is not a charge that I have personally heard levelled against us by Kuwaitis. Nevertheless I fundamentally disagree with the premise. The UK has always been, and will always remain a close ally and friend of Kuwait and the Kuwaiti people. As such we pursue close ties in every arena. We support the implementation of Kuwait's development plan through the expertise and professionalism that UK business can offer. We support Kuwait's armed forces and contribute to the defence of the country. And we support Kuwait's political institutions, civil society, and help the country address human rights issues, as shown by the recent conference on freedom of expression and security. In each case we do so as friends. It's not our place, and it never will be our place, to dictate to Kuwait what it should and should not do in any area. What we can do is stand ready to offer our assistance and partnership where offered and needed, through the lessons we have learnt throughout our long history, through whatever expertise we've accumulated, and through the UK public and private bodies, be they businesses, NGOs or educational institutions, that maintain a global reputation.
Further Information
Read more about UK-Kuwait relations on the British Embassy website
Published 8 April 2013