Press release
Francis Maude visits England's first social enterprise hospice
Francis Maude today visited the first hospice in England to be run by its staff as a mutual - the John Taylor Hospice, Birmingham.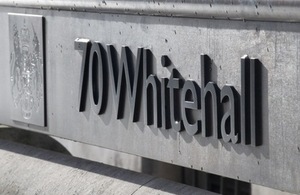 July 2012
CAB 066-12   
The Minister for the Cabinet Office Francis Maude today visited the first hospice in England to be run by its staff as a Social Enterprise mutual - the John Taylor Hospice in Birmingham. The hospice was taken over by its own staff and spun out from government control in October 2011.
As a result of the take-over, staff now have the autonomy and control to do what they do best and provide high quality NHS care to local patients. The minister saw first-hand how this service is a vital part of the local community, which has over 280 patient referrals each month.
Staff engagement is achieved through the hospice's membership model, where employees are "members" of the organisation and sit on the board. This has allowed staff to shape the future direction of its work and have greater influence over their pay and conditions. Staff sickness levels have dropped, with an average sickness rate of 3.5 days per employee.
Francis Maude, Minister for the Cabinet Office, said:
Visiting John Taylor Hospice today, I saw first-hand the brilliant job that everyone, from staff to volunteers, is doing. These frontline staff were motivated enough to take control of the services they know best, and you can see the benefits that brings. I hope other public sector workers follow their lead and are inspired to take over the services they run, to make them more efficient and effective.
The hospice is the largest employer in the Erdington district of Birmingham and its social enterprise nature means that it gives back to the local community - including by setting up an apprentice scheme in partnership with the local college and developing volunteer roles, accredited with the job centre. The new volunteer roles have contributed to a 30 per cent increase in volunteers at the hospice.
Kate Phipps, Chief Executive of the John Taylor Hospice, said:
Choosing to become a social enterprise is a really positive step for John Taylor Hospice and our staff have embraced it. John Taylor Hospice was founded in 1910 on the principle of mutualisation, and we have been at the heart of our community for 100 years.  Becoming a social enterprise is an inspiring innovation that will ensure we can develop and grow into the future.
Across the country, mutuals already deliver about £1 billion of health services. The business models they choose vary but all give employees a meaningful say in how things are run.
Francis Maude, Minister for the Cabinet Office, today also visited Base studio, a state of the art recording studio. Its social enterprise arm, Base Foundation, helps local unemployed young people to develop key skills. He also visited voluntary and community groups in Dudley to see their work first-hand and discuss the Government's Big Society agenda.  He visited a Community First Panel and accompanied a Community Organiser on a tour of the Chapel Street Housing Estate to see how Community Organisers engage with members of the community to resolve community issues.
Notes to editors
Social enterprises are businesses that exist primarily for a social or environmental purpose. They use business to tackle social problems, improve people's life chances, and protect the environment. They create shared wealth and give people a stake in the economy.
Social enterprise is a growing sector - there are more than 62,000 social enterprises in the UK, contributing £24 billion to the UK economy and employing almost one million people.
About £1 billion of health services are provided by mutuals. Evidence suggests that employee ownership can boost productivity by up to 19%. John Lewis, one of Britain's best known mutuals, continually tops customer satisfaction polls and has half the average staff turnover and sickness absence of the retail sector. The Government is supporting public servants who want to form mutuals with a £10million Mutuals Support Programme and Mutuals Information Service http://mutuals.cabinetoffice.gov.uk and hotline 0845 5390543.
Community First is an £80m government-funded initiative that will run for four years, until March 2015. The programme will help communities come together to identify their strengths and local priorities in order to plan for their future and become more resilient. It will fund both new and existing community groups.
The Community Organisers programme will recruit and train 500 senior community organisers, along with a further 4,500 part-time voluntary organisers, over four years. Community organisers listen to residents in their homes, on the street and where they gather, and they will listen to public service and third sector workers, small businesses and local institutions to help develop their collective power to act together for the common good, as identified locally.
Published 13 July 2012