Francis Maude celebrates City Year's London expansion
A gala on September 11 celebrated the start of City Year's third year working in London schools.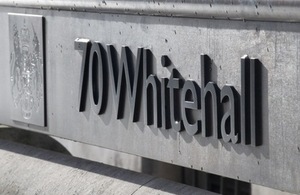 13 September 2012
Minister for the Cabinet Office Francis Maude joined volunteers and school children at a gala on September 11 to celebrate the start of City Year's third year working in London schools.
A record 108 young people are embarking on a full-time, year-long role as City Year 'corps members', serving in twelve primary and secondary schools in seven London boroughs this year. Working alongside teachers as tutors, mentors and role models, their aim is to inspire academic progress, raise the aspirations of pupils and ultimately help to close the educational attainment gap between rich and poor pupils.
City Year was recently awarded £300,000 from the Cabinet Office's Social Action Fund to begin the first phase of growth beyond London.
Minister for the Cabinet Office Francis Maude said:
The government's Social Action Fund is backing exciting and effective projects which can encourage more people to volunteer to improve their communities and build a stronger society.

It is inspiring to meet the young City Year volunteers who are dedicating extraordinary amounts of time and passion to working with school children. I am delighted that the Social Action Fund grant will enable City Year to grow and have an even bigger impact in even more schools.
Sophie Livingstone, Chief Executive of City Year said:
As we start our third year I am more convinced that Britain has huge potential to create a service nation culture. Our latest corps members are a brilliant demonstration that young people are very passionate about social action and tackling deep-seated issues like educational disadvantage and social mobility.

City Year London started with 7 corps members in 2010, grew to 60, then 80, and now we have an amazing 108* young people working in 12 schools across London. It reinforces our belief that young people want to think big and change the world.
Corps members will work closely with approximately 600 'focus list' children to support their learning and behaviour. As highly visible role models and mentors throughout the school day, corps members will influence more than 6000 children during the year, providing extra activities and a creative, inspirational dimension to school's culture.
City Year was established in 1988 in America where it now operates in 23 cities across the US. John Bridgeland, a former White House official and now CEO of Civic Enterprises, said:
It is a privilege to be in the UK to see City Year operating in London. It is inspiring to see young people proudly wear their red jackets and commit to changing the world.

Britain has a massive opportunity to create a 'service nation' like the Americorps movement, which City Year in the US is a vital part of. It makes so much sense to nurture organisations that can provide structured opportunities and programmes that unleash the power and enthusiasm of young people.  City Year is a proven model that makes a big difference to the confidence, skills and development of the corps members, as well as achieving a positive impact on pupil's curriculum performance and progress.
The Social Action Fund has been created to support the government's vision for a Big Society by funding proposals that will embed long term increases in giving time, resources or skills. The funding is enabling established and proven models of social action to scale up and grow, creating new opportunities for people across the country to make a difference in their communities. Over £20 million has been awarded in total, delivered through two rounds. For further information about the Social Action Fund, including details of recipients and how to register your interest for future application windows, please visit http://www.cabinetoffice.gov.uk/resource-library/social-action-fund-grant-recipients
Published 13 September 2012