Press release
Franchise Advisory Panel members named
Remaining members of Franchise Advisory Panel named as Nicola Shaw, Stephen Paine, Martin Buck and Michael Holden.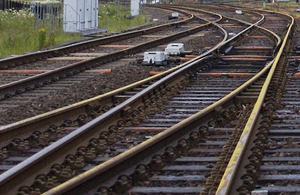 Transport Secretary Patrick McLoughlin today (25 April 2013) named the remaining members of the Franchise Advisory Panel as the Department for Transport continues to successfully push forward with its new programme for rail franchising.
The five industry experts, who met for the first time this week, will provide support, assurance and commercial expertise to the department as it negotiates contracts for 15 franchises over the next 8 years. The panel members have been appointed on initial three-year terms.
Richard Brown, Chairman of Eurostar and author of the independent Brown Review into Rail Franchising, was named chairman of the panel last month as part of the government's comprehensive rail franchising announcement.
The remaining four members named today are:
Nicola Shaw, CEO of High Speed 1 Limited
Stephen Paine, Managing Director, Global Head of Infrastructure and Co-Head of UK Investment Banking at UBS Investment bank
Martin Buck, Commercial Director at Crossrail Limited
Michael Holden, CEO of Directly Operated Railways and Chairman of East Coast
Transport Secretary Patrick McLoughlin said:
We have already laid the foundations for a successful rail franchising system with our comprehensive new schedule but it is also vital we take advantage of industry know-how.
The talent and expertise of the Franchise Advisory Panel will complement the skills and knowledge already available in the department and ultimately help deliver franchises which will provide real benefits to both passengers and taxpayers.
The panel is expected to meet on a monthly basis and will:
advise, support and inform the Secretary of State on the Department for Transport's work on the rail franchising programme
provide support, challenge and assurance to the Franchising Director and franchising team as they progress the franchising programme and develop and enhance capability
provide a commercial perspective to the programme, and help assure the Secretary of State, the Permanent Secretary and the market that sound advice, assurance and governance processes are in place
The new franchising schedule announced on March 26 unveiled long-term plans designed to drive improvements to rail services, deliver on major infrastructure projects, and put passengers at the heart of a revitalised rail franchising system.
Notes to editors
Terms of reference of the panel.
Biographies of Panel Members
Richard Brown CBE FCILT
Chairman of Eurostar and author of the Brown Review of the Rail Franchising Programme (published in January 2013)
Richard Brown was Chief Executive of Eurostar from August 2002 to April 2010 and is now Chairman. As Chief Executive he turned around its performance, delivering record passenger numbers and punctuality, and successfully launched the first high-speed passenger service in Britain, overseeing the flawless overnight transfer of services to Eurostar's new UK home at St Pancras International. He was previously Commercial Director and main Board Director of National Express Group plc, where he set up its UK Trains Division, at the time the largest UK passenger franchise operator. He has spent 35 years in the transport industry, and was a Director of British Rail's Intercity Division before privatisation. He is a past President of Railteam and the Chartered Institute of Logistics and Transport.
He is currently Chairman of Catalyst Housing Ltd, a Board Member of HS2 and a Vice President of the French Chamber of Commerce in Great Britain.
He was educated at Cambridge, University College, London, and Harvard. He is married with three adult children and enjoys sailing, skiing, walking and gardening.
Nicola Shaw
CEO of High Speed 1 Limited
Nicola Shaw was appointed CEO of High Speed 1 in April 2011. HS1 Ltd holds the concession from government to operate, manage and maintain the high-speed railway infrastructure and its stations until December 2040. She was previously a Director of FirstGroup plc (UK, Europe and North American transport operator with annual revenues of over £6 billion), and for the five years to 2010 was Managing Director of the £1.3 billion revenue, 25,000 staff bus division in UK, Ireland and Germany. Her career has spanned both public and private sector in the UK and abroad. Before joining FirstGroup, Nicola had several regulatory, commercial and operational roles, including positions with the SRA and the ORR, as well as with Bechtel, Halcrow, the World Bank and London Transport.
Nicola is also a director of the Aer Lingus Group plc and a trustee of Transaid, an international UK development charity dedicated to reducing poverty across the developing world through better transport.
She holds a Bachelor's degree from Oxford University and a Master's degree from the Massachusetts Institute of Technology (MIT)
Stephen Paine
Managing Director, Global Head of Infrastructure and Co-Head of UK Investment Banking, UBS Investment Bank
Stephen Paine joined UBS in 1994 to work in the Specialist Finance team and moved to the Infrastructure Group in 1999. He is now Global Head of the Infrastructure Group. Stephen is also co-head of UK Investment Banking. In his role as global head of the Bank's Infrastructure Group, Stephen has worked on financing, privatisations, advisory, M&A and equity raising transactions in Europe, the US and Asia in the power, utility, post, logistics, rail, road, port, PFI/PPP and airport sectors. In particular, Stephen has led advisory teams on a wide range of projects and transactions including Network Rail's acquisition of Railtrack and subsequent £20 billion debt issuance programme, the £2 billion refinancing of Tube Lines in the capital markets, New Jersey's review of privatisation and PPP options for its infrastructure and the Saudi Railways' Landbridge project connecting Jeddah and Riyadh.
Stephen has an MA in Law from Cambridge University and an MBA from Insead. He is a qualified solicitor.
Martin Buck
Commercial Director of Crossrail Limited
Martin Buck was appointed as Crossrail Ltd's Commercial Director in July 2009. Martin leads Crossrail's commercial function, with responsibility for developing and implementing Crossrail's commercial and procurement strategies and processes. Since 2010 Crossrail has successfully awarded contracts in excess of £6Bn.
Martin was previously a project director with Partnerships UK where he managed activities in the transport sector. As a founder member of the Treasury Taskforce (predecessor of Partnerships UK) Martin participated in many of the largest and most complex projects in the transport sector.
From 2005 to 2008 Martin was seconded from Partnerships UK to Crossrail as Commercial Director
Michael Holden
CEO of Directly Operated Railways and Chairman of East Coast
Michael Holden was involved from the start in running East Coast, firstly during mobilisation prior to transfer of the business and since as a Non Executive Director. In January 2012 he became Chairman of East Coast and Chief Executive Officer of Directly Operated Railways.
Michael has extensive experience in managing railways and railway projects within the UK and Europe. He progressed through British Rail in a number of roles, finishing as Regional Director Southern, when he transferred to Network Rail in 2002.
In 2003 he was appointed Managing Director of Connex South Eastern and immediately found himself negotiating the transition from that franchise into a period of public sector ownership. He created South Eastern Trains and ran it successfully for a lengthy period until it was refranchised in 2006. During this time significant improvements were made in operational and financial performance, as well as in customer satisfaction, and new fleets of trains were successfully introduced into service in difficult circumstances.
In 2006 he set up his own railway management consultancy service, Coledale Consulting. He specialises in providing strategic advice to clients on commercial and operational matters, and leading bid teams for franchise, concession and PFI competitions. He has also had involvement in mobilising two UK franchises and a Swedish concession. His recent work has taken him to Scandinavia, Spain and Ireland as well as the UK.
He is a member of the Association of Train Operating Companies board and a member of the British Transport Police Authority. He is a trustee and director of Railway Children, the international charity which acts as the voice for streetchildren worldwide. He is also Chairman of Railway Children Trading Ltd and Railway Children Ball Ltd, both charitable companies.
Michael holds an honours degree in Business Studies from Portsmouth and is a Fellow of the Institution of Railway Operators.
Press enquiries: 020 7944 3108
Out of hours: 020 7944 4292
Public enquiries: 0300 330 3000
Published 25 April 2013