Fostering services need to reach out to wider range of carers
The care system is facing major challenges as the number of looked after children rises and retiring foster carers are not replaced fast enough, Children's Minister Tim Loughton will warn tonight.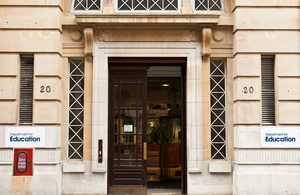 The care system is facing major challenges as the number of looked after children rises and retiring foster carers are not replaced fast enough, Children's Minister Tim Loughton will warn tonight.
Mr Loughton, speaking at the Fostering Network's Celebration of Fostering at the Royal Festival Hall, will praise the dedication and excellence of existing foster carers in giving children loving, stable homes - often for many years.
But he will urge fostering services not to be blinkered when considering who has the capacity to foster and to reach out to a wider pool of potential carers - able to help the increasingly challenging needs of children coming in care.
He argues there will be a rising turnover of foster carers over coming years, caused in part by an aging workforce - the vast majority are already in their late forties to mid-50s. He said without younger and skilled foster carers coming forward, the current shortfall of carers will only grow.
The Fostering Network said last week that an extra 8750 foster carers are needed across the UK this year alone. The network said that three out of five fostering services are "desperately seeking foster carers"; and that 98 per cent were looking for more foster families for teenagers than last year.
Announcing measures to strengthen foster carers' recruitment and retention, he will call on more fostering services to target those in caring professions, like nursing, teaching and social work, as potential foster carers.
He will argue that fostering services need to be far more innovative in recruiting younger carers - encouraging them to come forward by, for example, letting people know about opportunities for short stay fostering and not turning away people who work outside the home unless there is a good reason.
And Mr Loughton will also call on more big employers to give foster carers the same rights to flexible working and time off, as to any other parent. He will say it is wrong to penalise them in effect for their commitment to turning around the most vulnerable children's lives.
He will say more should follow in the footsteps of Tesco and O2, which have introduced "foster family friendly" policies - to help their staff provide stable, secure homes for some of the country's most vulnerable children.
This includes allowing them to:
take five days off for pre-approval training;
flexible working to help foster children settle in at home;
shift swapping schemes to help foster carers juggle commitments; and
have the same access to emergency compassionate leave as any parents with their own children do.
He says the government will make this easier with the forthcoming Children and Families Bill including legislation to expand flexible working and shared parental leave.
The other measures include:
The Department for Education becoming the first government department to introduce a robust foster family-friendly policy - challenging other public sector organisations to do the same. He will publish advice to help employers do more to support their staff to foster.

New rules which will stop fostering services enforcing a "blanket ban" requiring foster carers not to engage in other paid work - unless there are robust reasons to do so, like services which only provide foster carers for very young children, children with very challenging needs, or disabled children who need 'stay-at-home' care.

Statutory guidance will be strengthened to ensure that fostering services are more responsive to foster carers in employment - for example, by holding meetings about the child's care in the evening or weekends instead of only during working hours.

Supporting local areas to develop short stay fostering and voluntary support - which enables those in work to offer respite care for families who need extra support. He said that he wants to tap into people who have an important contribution to make but are not able to make the commitment to foster full time.

Continued work the sector to make the assessment process more responsive and timely, to reduce rigid rules which lead to delays in children being placed with foster carers, strengthening requirements around giving foster carers authority to make day-to-day decisions about the children they care for and developing a framework and materials for training and development of foster carers and social workers that work with them.

Three quarters of the 65,000 children in care at any one time are in foster care - with as many as 91,000 spending some time in the care system over the course of a year.
Department for Education research on the demographics of foster carers, to be published shortly, shows that there is a tendency towards conservatism on behalf of those selecting and approving foster carers, which may be biased against potential foster carers with younger children.
It says that the majority of carers are currently aged between 46 to 55, with the vast majority of single carers not in employment and with most being part of "traditional" families, where the male partner works and the female partner doesn't work or works part time. It also highlights that the vast majority of single carers are not in employment.
Children's Minister Tim Loughton said:
The role that foster carers fulfil too often goes unrecognised. They do a fantastic, selfless job to turn around vulnerable children's lives.
More children are coming into care, with varied and often very challenging needs. We need more foster carers to come forward to deal with the ticking time-bomb as existing foster carers come up to retirement. We need to be recruiting from the widest pool of potential carers, making it as easy as possible for people who are able meet children's needs to come forward.
The vast majority of children in care are fostered at some stage - so we need to make the system work better. It is wrong to turn a blind eye to anyone who has the skills and qualities to give young people a stable nurturing home, whether they are younger or older, and whether or not they are in a job or working with children already.
Employers should give foster carers the same rights as they do with any other parent - it's completely wrong to penalise them in effect for their commitment to turning around the most vulnerable children's lives. Tesco and O2 have set the standard for others to follow by introducing foster family friendly policies. And I am delighted that the Department for Education will be making it easier for its staff who want to foster alongside employment.
Robert Tapsfield, chief executive of the Fostering Network, said:
We welcome the minister's continued commitment to fostering, and determination to improve the quality of care that children receive.
We join the Government in calling on all employers to be more foster family friendly. Offering foster carers understanding, flexibility and support can make a real difference to their ability to meet the needs of the children they look after.
Judith Nelson, Director of HR for Tesco UK, said:
Foster carers play an extremely valuable role in our communities, providing care and stability for often very vulnerable children. We are proud to be able to help colleagues who take on this role by giving them the time and support they need to undertake such an important and worthwhile commitment.
Ann Pickering, HR Director, O2 UK, said:
At O2 we recognise that foster carers make a huge difference to the lives of the children in their care. We want to make it as easy as possible for our people to manage their foster care commitments, whilst balancing their job responsibilities and are pleased to be able to support our people who take on such a rewarding and worthwhile role.
Notes to editors
More on our foster family-friendly and other proposals on the Department for Education's website.

More on [Foster Care Fortnight(http://www.fostering.net/foster-care-fortnight), on The Fostering Network's website.

Tesco is the UK's largest private sector employer. It offers flexible employment to staff to fit work around their families and other commitments. This includes a flexible leave policy designed specifically for foster carers. It supports families undergoing the assessment process and pre-approval training to become foster carers by offering up to five days' paid leave for colleagues to apply to become a foster carer or attend foster care related meetings or training. Foster carers are also entitled to emergency leave if an emergency arises. In addition, all staff are able to swap their shifts to help them juggle their family or other commitments, and to take compassionate leave if the need arises.

Telefonica, known O2 in the UK, currently employs over 11,000 people. Introduced in 2007, O2's fostering leave policy gives all employees being assessed for foster care approval up to five days' paid leave per year so that they can attend meetings and other activities related to their application. If an employee needs more than five days' fostering leave, they are able to speak to their manager about other time out options, such as holiday, work back-time or unpaid leave.
DfE enquiries
Central newsdesk - for journalists 020 7783 8300
General enquiries - for members of the public 0370 000 2288
Published 23 May 2012