Press release
Foreign truck firms to pay fair share to use roads
Heavy Goods Vehicle Road User Levy introduced ahead of schedule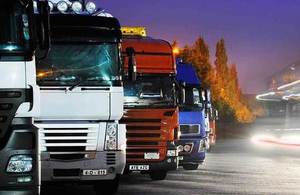 Wales Office Minister Stephen Crabb MP has welcomed the UK government announcement that from today (1 April) foreign haulage operators will, for the first time, be paying their fair share to use UK roads.
Until today, foreign trucks operating in the UK could transport their goods to and from Europe without making any financial contribution towards the upkeep of the road network. In contrast, UK truck drivers working in Europe pay tolls and levies when delivering goods abroad.
Commenting on the new levy Wales Office Minister Stephen Crabb MP said:
"This is a boost for British haulage companies, and gives operators a better chance of securing international trade by having a level playing field with foreign operators, and giving firms a much better opportunity to win business. It is yet another example of the UK government backing British business and investing in our infrastructure.
"This introduction has been called for by our domestic haulage industry and creates a fairer system by removing some of the inequality UK hauliers feel when paying to use many roads abroad," he said.
Ian Jarman, manager at Owens Road Services in South Wales said:
"The news that foreign haulage operators will now be paying their fair share towards the upkeep of our roads is good news. It will be a boost to the UK haulage industry which is long overdue, and there's the potential for an increase in business for UK operators.
"Before this levy, foreign haulage companies could load up on cheaper fuel from the continent, arrive here with a full load of diesel, deliver the first load of goods then carry out other internal operations before leaving, without even re-fuelling here, so they were also not paying fuel duty. Now they will have to pay up-front."
Also commenting on the new levy Vincent Brickley, Director of Tandem Transport Services in South Wales said:
"We welcome the news, which we've lobbied for and is long overdue. It puts us on a level playing field with foreign haulage operators for the first time. It's a move in the right direction."
The Heavy Goods Vehicle (HGV) Road User Levy is being introduced nearly a year ahead of schedule and ensures foreign hauliers make a fairer contribution to maintaining UK roads. Forecasts suggest that annual revenue would be about £20 million from foreign vehicles, and could lead to economic benefits through international haulage market share increases.
The levy affects all heavy goods vehicles of 12 tonnes or more that drive on UK roads, irrespective of country of registration, so UK and foreign vehicles pay. At the same time as introducing the levy, the government is reducing Vehicle Excise Duty, such that more than nine out of ten UK vehicles will pay no more than now.
For Further Information
See Department for Transport website for full details on the new HGV Road User Levy. link text
Published 1 April 2014